| | |
| --- | --- |
| | Phil Campbell |
Few communities have within a week borne sadness with dignity.
Rotorua has seen better weeks. This wasn't one of them.
In Rotorua over the last seven days, three workers on a roadside near Matata were killed, a day later popular academic and classical guitarist Dr Barry Smith died following a brief illness. On Sunday, the noble Brigadier General Ian Thorpe died.
Threaded into a community in mourning was news that Mayor Steve Chadwick is to stand for a third term in in Rotorua and today Rotorua's property market as improved.
All three men killed in the tragedy at Matamata were from Rotorua. Every second person one met had some connection. The chief executive of one of the town's top tourist visits said he was in tears in tears for a day, let alone maudlin for the entire week. The husband of one of his staff was a Matata victim.
Matata is the town where it was reported some 30 years ago now a Listener writer recorded Rowan Atkinson was seated on a form perfecting some of his comedic scripts. You can pass through this seaside resort quicker than running a swipe card at your local co-op.
The men who died in the accident were of ordinary Rotorua citizenry. Their names had not previously been brought before the public. Yet, their passings have left a town in unimaginable grief. As my friend the CEO remarked as we our gondola thrust its way up the eastern slopes of Mt Ngongotaha for Steve Chadwick's launch, a death among our own who are dying is acceptable but nothing prepares for what happened at Matata.
He is right.
Earlier that day, some of those who attended the launch – including Chadwick the candidate – had attended the rededication of the Te Arawa Memorial in Queen's Drive, a taiaha's throw from Rotorua Museum, quarantined and fenced in as the building is reinforced to safety standards.
Monty Morrison, the nephew of Sir Howard Morrison, the great entertainer, carried out MC duties at precisely 6am in clement conditions.
He spoke through the mildew of tragedy. His grief, and therefore that of the assembled, was ineffable. He spoke haltingly – "we have to bury all three in Rotorua this week", he said – and he spoke as if had swallowed broken glass. Because he also mentioned the passing of Dr Barry Poata Smith a day earlier.
Those few of us filing news copy were in for a long day, culminating in a gathering of 120 Chadwick supporters (more than 70 and below the 150 of two published estimates).
Brigadier General (ret) Thorpe has been unwell for some time, but he was another revered community figure. News of his death buttressed a tragic start and end to seven largely unwanted days.
By Monday, all seemed back on a keel – if not quite even – as news of the uplift in a growing Rotorua has shown.
The mayoral race may have been signalled with Chadwick's announcement which was not totally unexpected but the campaign officially does not begin until August.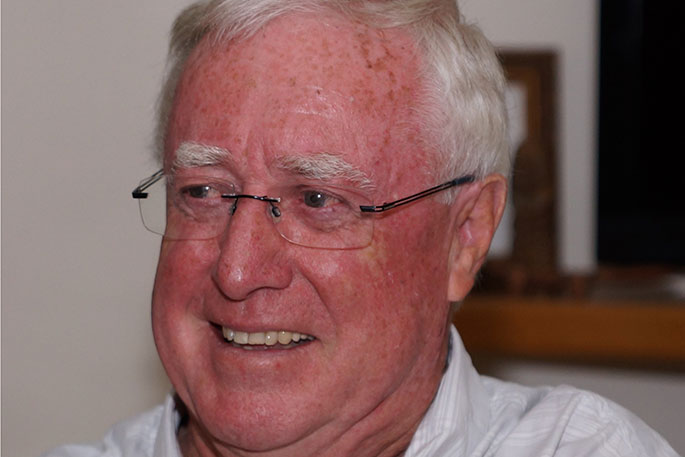 Reynold Macpherson.
In the wings, salivating for his opportunity, is Dr Reynold Macpherson, who has been commanding columns of newspaper ink pointing to council foibles. He raises many good points. Council debt one of them.
And he is relentless. But essential to local democracy, even if it appears self-serving.
His Rotorua District Residents and Ratepayers (RDRR) group is to hold a press conference this week. It is by invitation.
There this grave one-man band will announce RDRR has nominated him as its mayoral candidate. And six from within his organisation whom he hopes will strike a majority election in October.
Thereby forming a bloc – a term incidentally he has used egregiously in the past in letters to the local paper as he fulminates against what he has regularly termed a "regime" and over the years as a "corrupt practice" on at least one issue.
We wonder if Chadwick – "it's her election to lose", say her supporters – feels as if her head really is on the bloc.