High levels of asbestos is delaying the demolition of the Soundshell in Rotorua.
Rotorua Lakes Council says it's applying for a resource consent to remove a layer of soil under the noted talent hall, because more asbestos has been found.
Rotorua Now sought an update from the Rotorua Lakes Council as much time has elapsed since the council said the old auditorium would be levelled to make way for development.
Two weeks ago, the $40 million Lakefront redevelopment project began with areas along the southern areas fence off to the public.
Work on the building's periphery has begun, with heavy machinery skirting the surrounds and removing areas not affected by asbestos.
But the final push has been delayed.
Earlier, the council had advised "extra treatment" is needed because the remaining asbestos left in the structure needed to be safely removed.
But it is now more than two months since councillors were told it was hoped the building would be levelled within two or three weeks.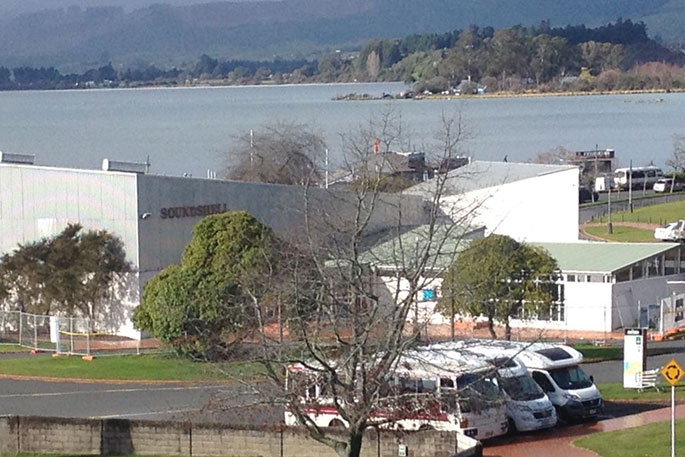 Not raising the roof these days – the demolition of the Soundshell in Rotorua has been delayed. Photo: Phil Campbell.
In a statement to Rotorua Now, council's sport, recreation and environment manager Rob Pitkethley says independent asbestos assessors are continuing tests.
"Independent asbestos assessors have continued to test the auditorium as each treatment has been applied but the level of asbestos remaining is still above the level required for the clearance to safely remove the external cladding from the building," Rob says.
"A more intensive level of treatment is being developed between the independent assessors and the building removal contractors to remove the structure the safest way possible.
"This is not something we want to rush.
"We are working very carefully through this process ensuring we are taking the best advice possible.
"The safety of people and the environment is our top priority.
"In parallel to this work, the council is also applying for resource consent for earthworks to remove the top layer of soil under the building because testing has revealed a level of asbestos present."
Subscribe to our daily Newsletter
Email: