John Bond was a 100-year fixture in the Rotorua community.
He died in Thames on Thursday, aged 103.
After he turned 101, John, a tenor, was still clearing his pipes in public, particularly and memorably at an Anzac Day service in 2017.
By now a curiosity in Thames where he lived after Maisie died, was still singing before various groups.
John's oldest son John said his father, who had a major if understated contribution in radar, told Rotorua Now he had passed away peacefully.
In a tribute, Tony an engineer, said: "He taught me many things, like nothing can stop you if you want to do something. He had a determination and I learnt a lot from him… he taught me to do things differently; his father was the same."
John Bond's passing ends possibly the last Rotorua tangible link with pre-World War Two England.
In London, while pursuing a singing career, John Bond met Maisie. The pair lived their lives in keeping with John's surname. Maisie died in 2017, after 75 years of marriage.
John and Maisie were married in war-torn London, witnessing a dogfight as they left the church. Their marriage, well grounded, was the start of many adventures.
John had moved to London from New Zealand to pursue a singing career.
As with most servicemen, the war deflected him from his chosen career path.
Fortunately, John was qualified in radar. His knowledge of radio valves proved invaluable to England's war effort.
With excellent credentials in mathematics, his knowledge of the inner machinations of new-fangled radio proved a cinch for radar work.
This talent was quickly seized on by the British military. He joined the RAF, after being spurned by the Navy; the RAF found John invaluable for improvements for the new radar technology, an imperative to foreshadow and counter the Luftwaffe.
He was parcelled around Europe, memorably on one fateful trip to Gibraltar. John had originally been ordered to fly to Scotland in the same aircraft as the Duke of Kent.
As he boarded, he was told to disembark for duty in Gibraltar. The aircraft carrying the royal entourage crashed, killing all on board on August 25, 1942.
Though short in stature, Bond was of imposing military bearing. At all times he observed military protocols even in his domestic life. To the end he demanded a glass of stout at 6om each day.
John and Maisie supported each other's interests – Maisie with John at the RSA and teaching, and John with Maisie at her wool into art renderings and wool spinning, at which she was expert.
Towards the end of the war, with two children, Tony and Paul, a school teacher, the Bonds returned to New Zealand by boat, which docked at Lyttleton.
There John said later he had literally taken over the navigation of the ship for an unexplained reason. Further, unrest became apparent because, as the ship called at port, the wharf labourers were on a day off – it was Labour Day.
John had left England early at the behest of Britain's wartime government to apprise the NZ government of advances in the latest radar technology.
Soon, though, the Bonds secured a rehab loan to farm on land between Paeroa and Waihi. Years of breaking in the land – John was a dab hand at problem solving and mechanical innovation – took their toll. He was told he was "too small' to make it as a farmer.
Eventually, Maisie and John settled in Rotorua. He taught mathematics at Lakes High School, Western Heights High School and Rotorua Boys' High School for some years.
Ever restless, not to say daring and resilient, the couple then commuted to Te Aroha, where John taught at the local college. He and Maisie retained their Rotorua home while during the week they lived in a caravan at Te Aroha.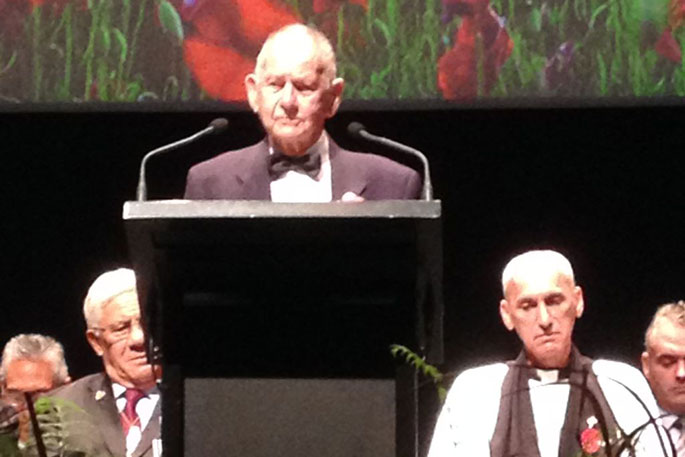 John singing at his final Anzac Day service in Rotorua. Photo: Phil Campbell
Eventually, they retired permanently to Rotorua, to Hamurana, later living in the central Rotorua area.
They retained their links with the past, with regular outings particularly to military and other reunions.
Some years ago, they made the national news when because of their age they were refused a permit to work in China – a country where gerontology is a virtue. The Bonds were in their 80s, and laughed off the rejection saying perhaps they were not old enough.
John continued his singing interests. Almost daily, he exercised his pipes, saying it preserved his voice, which understandably started to sound reedy with age. But each year he was a fixture at the Rotorua Aria Lockwood concerts. Each year, he won his age category of which he was privately proud, despite the fact that each year, as with wartime ranks, the competition was practically nil.
Nevertheless, it was with some pride when in the early 2000s he was interviewed and sang on Jim Sullivan's Radio NZ Sunday programme. His previous appearance had been in the 1930s, before he left for the UK.
His list of contacts was wide. Before WW2, the every-chirpy John Bond bumped into Rotorua's famous aviatrix Jean Batten, the media-proclaimed Garbo of the Skies', hunkering at Hendon, London.
At Hendon, Bond found Batten keen to engage in conversation. Curiously, not about flight.
"Though we had interests in aviation we spoke about other things," he said. "She was pleased to talk to someone from New Zealand and to talk about New Zealand."
He had discovered her by chance. "I looked in a hangar and there was her aircraft with Jean standing alongside it."
John Bond was celebrated in Rotorua, drawing rapturous applause when, at 101, he sang before a large gathering at Rotorua's Anzac Day civil service parade.
Few at this sombre occasion knew John had been fighting his own little battles, for a cancer scare in his vocal regions had seriously threatened his appearance.
After Maisie died several years ago, John shifted to Thames to live with his son, Tony, and his wife Lyn.
The move did not drain John's penchant for singing, for needing little encouragement he often sang to entertain new friends at the care centre where he lived out his final years.
John Bond's funeral will be held in Rotorua at a date to be confirmed.
Subscribe to our weekly Newsletter
Email: