Zach and Nirai Ririnui are the first twins to win Rotorua Young Achievers awards.
While born and raised in Tauranga, they have spent the last three years boarding at the Tai Mitchell Hostel at Rotorua Boys' High School.
They transferred over to Raukura in Year 11 from Tauranga and both have excelled as rugby players.
Zach made the Chiefs U18 and NZ Maori U18 sides, while Nirai was selected in the Chiefs U17 and U18 sides and captained the Bay of Plenty U16s. Nirai also represented the school in rugby league.
Rotorua Boys' First XV coach Ngarimu Simpkins has closely monitored the two solid front row props over the last three years.
Ngarimu knows a thing or two about front row play, after playing 82 games at hooker for Bay of Plenty, North Harbour, Poverty Bay East Coast and NZ Heartland XV.
He has coached Zach for three seasons and Nirai for two in the First XV.
"I had the bonus of having two really powerful young men who possessed pretty much the same skills. To have them both has been more of a blessing I guess.
"Zach was probably the more fortunate one early on, because he got the nod into the First XV earlier because he could play tighthead prop as opposed to his brother who played loosehead.
"That was the only difference early on in their schooling days here. They were both good enough to play First XV from the start but we had another really strong player who was playing loosehead at the time."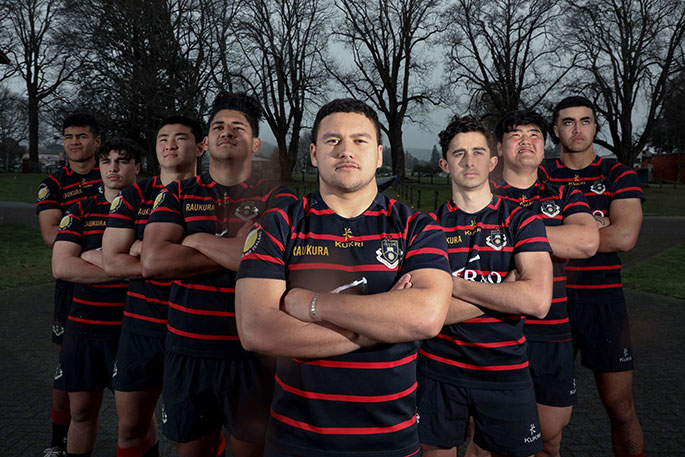 Nirai Ririnui. Photo: Andrew Warner.
Ngarimu says they are both high quality players, with leadership skills.
"Zach is a really good team man, often cleaning the shed after the boys have gone or packing down the field after everyone else has gone. I think that was his best attribute. He was just so good around everyone else.
"On the field he's a feared scrummager. He's really, really strong in his set piece, a great lifter in the lineout.
"Nirai is very similar in terms of his leadership around the group. He has been really unlucky with a few serious injuries that have slowed his progression but I certainly think he is just as talented as his brother.
"He showed huge resilience and character to keep coming back from injury."
Ngarimu says the boys came over to Rotorua from Tauranga in Year 11 to experience hostel life.
"Being in the hostel is a great learning experience in establishing leadership values for them in their time here."
Zach and Nirai are keen to make the Bay of Plenty U19 team next season and to start a career in a building or related trade.
* The annual Young Achievers awards are sponsored by the Rotorua Energy Charitable Trust (RECT) for success across sports, cultural, community, academic and leadership fields.
Subscribe to our daily Newsletter
Email: