Prime Minister Jacinda Ardern says authorities felt an enormous duty of care to make sure that the victims who died in the eruption were brought home.
"We know that reunification won't ease that sense of loss or grief because I don't anything can."
She wants to send an enormous thank you to everyone involved in the recovery operation.
"A huge amount of courage was required to do what they did today."
Search teams have returned to Whakaari/White Island this afternoon to recover the two bodies that remain unaccounted for.
Six bodies have been recovered from the island following the fatal volcanic eruption at 2.11pm on Monday.
Mayor Judy Turner acknowledges the depth of feeling present in Whakatane today as the bodies recovered from White Island have been transported there before being flown to Auckland.
"I share in their grief and sorrow and our community also joins me in that."
Police commissioner Mike Bush says the recovery operation is ongoing.
He says staff will return with an aerial search of Whakaari/White Island in an attempt to locate the two that remain missing.
"We will also be deploying dive teams to search the surrounding waters and will continue to search for those two people.
"We believe one of them may be in the water and the other is either still on the island or is also in the water."
Mike says the environment staff encountered this morning was unpredictable and challenging.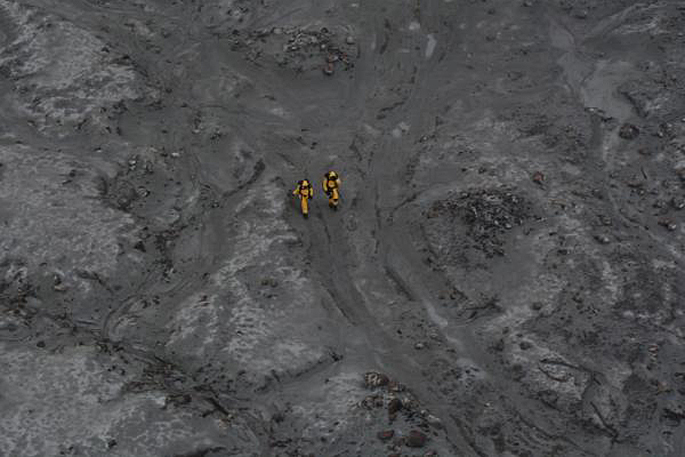 NZDF personnel on Whakaari/White Island. Photo: NZDF.
White Island is the most active it has been since 2016.
It's hovering between level 2 and 3, which means there is a moderate chance of another eruption.
At the time of the eruption, the alert level was raised to 4.
"Those staff showed courage in order for those (six people) to be returned to those loved one.
"This entire event has been harrowing and tragic for everyone involved."
The NZ Defence Force, Police and other emergency services have been working together this morning to be able to recover those six people and return them to their loved ones.
"The operation today went to plan and I would like to recognise the expertise of the NZ Defence force staff, and those who helped complete this morning's operation," says Mike.
"Thank you to everyone for their courage to enable for those six people to be returned to their loved ones."
Newshub reports that bodies will be taken to Whakatane Airport, there will be a blessing of the bodies before they are flown to Auckland for the formal identification process to take place.
Subscribe to our daily Newsletter
Email: