NCEA results have been released online, ending the nervous wait for thousands of secondary students.
About 140,000 students attended 119 exam sessions at the end of 2019, and on Tuesday the New Zealand Qualifications Authority (NZQA) released the results on its website.
The NZQA call centre will be open until 8pm Tuesday, with extra staff on-hand to deal with queries.
However, NZQA is expecting high call volumes and warned students response times may be longer than normal.
HOW TO ACCESS YOUR RESULTS ONLINE
Students can access their results through the Learner Login.
Students unsure of their National Student Number (NSN) can contact NZQA's call centre.
For privacy reasons, results and NSNs will only be given to the students concerned.
WHERE TO GET HELP
The NZQA call centre can be reached on 0800 697 296 or via email: helpdesk@nzqa.govt.nz.
NZQA says its call centre has been expanded with trained staff to answer any queries students may have about their results.
A specialist team of experienced advisors is also available to offer further guidance.
NEXT STEPS
Students will be able to view their marked digital exam papers from January 22, while printed exam papers will be returned from late January.
After receiving their marked papers, students have until 19 February to apply for a review or reconsideration.
Students who sat New Zealand Scholarship exams will be able to view their results online from February 5 and apply for a review or reconsideration until March 6.
Statistics on national attainment will be made available on the NZQA website in April.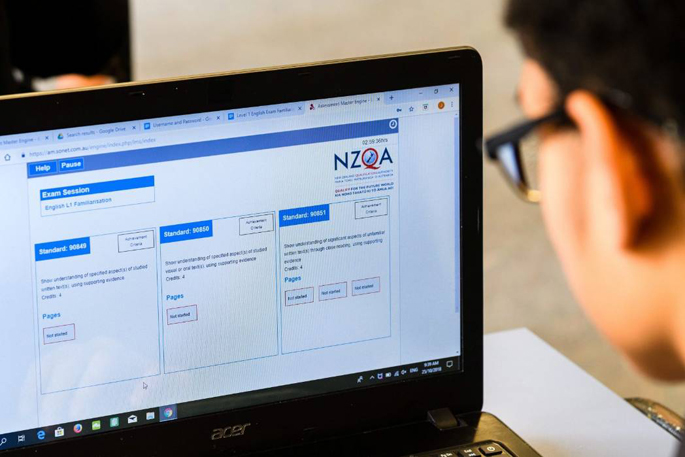 AN END TO NCEA FEES
This was the first year students did not have to pay to enter NCEA, after the $76.70 fee was scrapped in May.
Education Minister Chris Hipkins says as part of the Wellbeing Budget, the Government was abolishing fees to make things a bit easier for families.
CHANGES TO NCEA
The future of NCEA has been up for debate since May 2018, when the Government launched a review of how it was working.
An overhaul to the system was announced in May 2019, with a renewed focus on literacy and numeracy, an end to fees and a simplified structure all part of the package.
No changes will be made to NCEA in 2020, but the final package will be agreed by the end of February and be subject to Budget 2020 decisions.
Subscribe to our daily Newsletter
Email: