New Zealand's links with Czechoslovakia have been strengthened, when a Rotorua kapa haka group recognised one of the state's celebrated travel writers.
Led by Frank Grappl Junior, whose late father was also named Frank, the group marked writer Miroslav Zikmund with a performance by group Whakaari Rotorua on Valentine's Day.
Though Whakaari was popularised in the news items surrounding the pre-Christmas White Island tragedy, it means coincidentally to "make visible" or "exposed to view".
It's this exposure on the world stage the young Frank has continued in respect of his father who lived in Rotorua for many years.
Frank senior maintained his strong Czech links which included visits to this country (and Rotorua) by Alexander Dubcek in the 1980s and Vaclav Havel, former heads of state, in difficult periods of their country, Alexander more notably in the fraught Prague Spring.
Miroslav Zikmund, a renowned world traveller, writer and photographer celebrated his 101st birthday on February 14 with New Zealand performance group. Whakaari Rotorua.
It represented a triple teat for Miroslav marked not only his birthday but also 25 years he was last in Rotorua and it was Valentine's Day.
Whakaari Rotorua New Zealand Maori group members Frank Tomas Grappl Junior, Tuhi Grappl, and Barbora Strakova joined him in his celebrations in his home in Zlín.
"It was reason to not only celebrate Valentines Day around the world but to celebrate the Czech Republic's greatest living known traveller and one of the most travelled and respected men in world history," Frank Junior tells Rotorua Now.
The group undertook a special performance for him with Czech and Maori songs, including singing the Czech National Anthem in which Miroslav took part.
Well known for his travels and the following reports, photographs, radio programmes, books, and documentaries.
As part of a duo "H + Z" with Jiří Hanzelka, he has travelled to 83 countries to commit his observations to print, their first trip lasting three and a half years, reporting on everything as they travelled. Their first trip lasted for three-and-a-half years from 1947 until 1950.
Miroslav and Jiří became the best-selling writers in 20th Century Eastern Europe, retailing over 6.5 million copies of their books. Popular in Soviet Russia, they also became feted in Czechoslovakia.
But after a critical report on their observations of the Soviet Union during their travels in 1965, the duo was banned from further publications.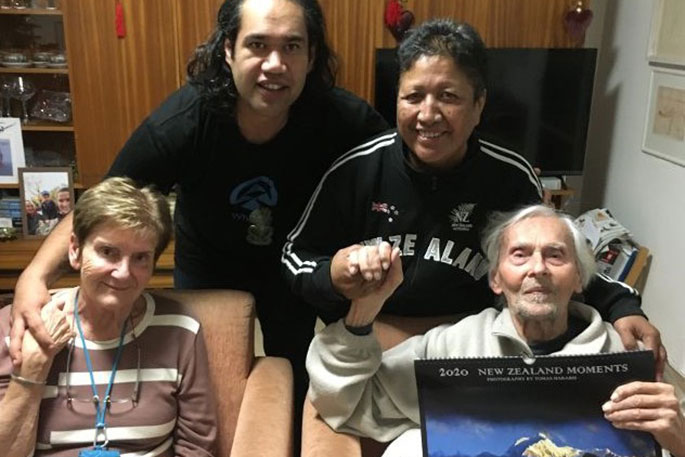 Members of Whakaari Rotorua New Zealand Maori group did a special birthday performance for Miroslav Zikmund, seated right, next to Jiří Hanzelka. Back are Frank Grappl and Nina Grappl, of the Rotorua kapa haka group, Whakaari Rotorua. Picture. – Whakaari Rotorua.
During the Prague Spring [January-August 1968], they sided with the anti-communists, gaining further notoriety with the government. Until the Velvet Revolution, Miroslav and Jiří got by with menial work.
Later, Miroslav finished his around-the-world trip by visiting Australia in 1989. Unfortunately, his travel partner Jiří had become too ill to join him. She died in 2003.
Since 1953, Zikmund has been living in Zlín, where the Museum of Southeastern Moravia holds a permanent exhibition dedicated to his and Jiří's travels. Their photographs are also often exhibited in country-specific exhibitions.
The kapa haka group recently returned to Rotorua following a three-month tour of the Czech Republic where it conducted performances and workshops.
– Prepared with information supplied by Tessa Adamson.