A Ngongotaha Village advocacy group say they're pleased plans for road safety improvements will be released for public consultation after years of negotiations with the council.
The plans include an approximately $2 million option that would see the speed limit through the village lowered to 30km/h, a roundabout built, road reconstruction and new raised pedestrian crossings.
Progress Ngongotaha spokesperson Bob Martin says he hopes the Ngongotaha community will make their voices heard by giving feedback to the Rotorua Lakes Council on three road safety improvement options when consultation begins.
Bob says he's happy the council have listened to their concerns, especially relating to traffic speed through the village.
"There's a lot of older people and school children who come to the village and with more heavy trucks and cars passing through using the Tauranga Direct road, it's just not that safe anymore.
"Dropping the speed limit is a good start, but we'd like to see the best job done first so we don't have to revisit it in five or so years.
"We also want to keep a real 'village' feel to the place," says Bob.
At a recent meeting of the council's Operations and Monitoring Committee, councillors voted unanimously to "...initiate engagement with the public on the three high-level concepts" and "that officers bring back to council the results of the public feedback with a recommendation on the preferred option(s)."
In his report to councillors, Infrastructure Group general manager Stavros Michael says the Ngongotaha community has been asking the council to improve safety and accessibility in the village and almost nothing had been done there for about 20 years.
He said the costs for the work would be part-funded by the NZTA.
Option 1 – Low-cost improvements. Approx $150,000. New pedestrian ramps/crossings. Speed limit reduction to 30km/h. New planting/landscaping. Road edge realignment.
Option 2 – Moderate cost improvements. Approx $600,000. As option 1 plus; raised pedestrian platforms, relocating the existing zebra crossing, extend raised median strip, widen footpaths.
Option 3 – Full corridor. Approx $2 million. As options 1 and 2 plus; major road reconstruction, mini-roundabout or traffic signals at SH36/Hall Road/Taui Street intersection, extensive urban design and landscaping.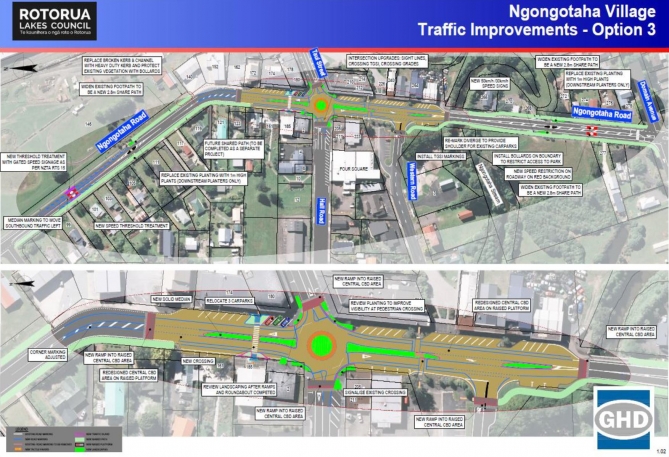 "This project is a result of long term feedback from the local community on identified problems and user risk the Ngongotaha residents face when navigating their village centre with the various modes of transport," Stavros Michael says in his report.
Ngongotaha resident Grant Lancaster says he prefers the third option and is pleased wheelchair access in the village would be improved.
Grant says there are two aged care facilities, a school, a daycare centre and two kohanga reo surrounding the village and lowering the speed limit, moving the pedestrian crossing and fixing footpaths were ideas he and others had campaigned for.

Subscribe to our daily Newsletter
Email: