Construction on the Sir Howard Morrison Performing Arts Centre - that has been closed since November 2017 due to earthquake risk - could begin next month.
According to a statement from the Rotorua Lakes Council, significant progress has been made on the $22.5 million project to strengthen and redevelop the centre "...with design work now complete and construction poised to start pending council approval".
The council has committed $11.5 million to the project, the rest being made up by outside funding.
"The finalised design includes an extended Civic Theatre seating up to 1000 people, a flexible black box theatre seating up to 300 people, a warm and welcoming foyer, a new café and bar area, and multi-purpose studios for workshops, rehearsals and recording.
Acoustics, air conditioning systems and theatre services will all be upgraded, the number of toilets will be increased and accessibility enhanced.
The centre will once again showcase local talent and will have the ability to attract larger-scale touring shows that previously bypassed Rotorua and the Bay of Plenty.
Once complete, the centre will be transformed into a regionally significant, fit-for-purpose performing arts facility, and one that our community can be proud of," the statement reads.
Rotorua Lakes Council Group Operations Manager, Jocelyn Mikaere says the potential for this significant community asset is huge.
"This regionally significant asset will be the only 1000 seat theatre in the Central North Island.
"We are envisaging a future where the performing arts sector can grow and thrive even more here in Rotorua drawing people from near and far, nationally and eventually internationally, to Rotorua.
"We have a performance-ready community full of talented and amazingly gifted people both young and old who have grown up performing.
"There is a real opportunity to grow and support a major new industry within Rotorua which will create real economic growth."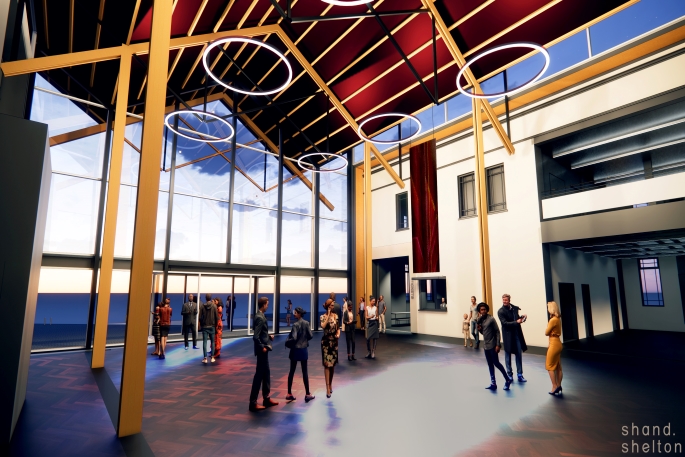 An artist's impression of the new foyer design. Picture/Shand Shelton
Mikaere says the project team has been working with Ngati Whakaue and designer Henriata Nicholas to incorporate cultural stories into the design that has resulted "...in a stunning new exterior and entrance foyer design sitting elegantly within the overall heritage features, creating warmth, light and a sense of arrival to welcome visitors".
Rotorua Lakes Council Performing Arts Director, Cian Elyse White says she's excited about the project getting underway.
"It has been a privilege to work with the Morrison whānau, Ngāti Whakaue, Te Arawa and community stakeholders to invest in this fantastic legacy project," White says.
The detailed design phase is now complete, amended resource consent approved, and the building consent application has been granted.
Pending approval of the construction contract, which will be presented to Council on September 24, the main construction phase will begin next month.
The project is also supported by the NZ Lotteries Commission, Sir Owen Glenn, Rotorua Energy Charitable Trust, New Zealand Community Trust, Pukeroa Oruawhata Trust, Ngāti Whakaue Education Endowment Trust and One Foundation.
A presentation will be given by Performing Arts Director Cian Elyse White and Arts & Culture Manager Stewart Brown on Tuesday, September 15 from midday at the Rotorua Library, Te Aka Mauri, to update stakeholders and the wider community on the project's progress and current status.
Subscribe to our daily Newsletter
Email: