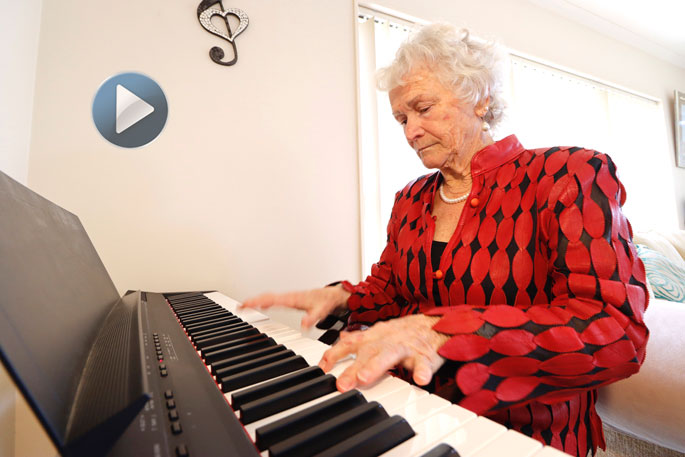 Click the image above to watch the video
Being blind and deaf is no reason to give up music for 79-year-old Donnella Woodiwiss.
"If I hear a song I like then I have got to play it – it's as simple as that.
"I can't read music, so I will listen to the song over and over again. Then I start practising and playing," says Donnella.
The Bay of Plenty performer has been a passionate musician since she was a child. She started playing the piano more than 10 years ago, after having to temporarily give up the accordion.
She has been partially deaf for most of her life but has only started using hearing aids over the last two years.
Hearing aids have "transformed" how she plays the piano and "turned her life around", she says.
"I have suffered all these years of not being able to hear properly. I have a different outlook on life now. It has certainly helped me with my piano playing."
Donnella sought treatment for her vision five years ago after noticing she couldn't see properly. She had her eyes tested and was diagnosed with macular degeneration.
Recently, she has stopped receiving injections for the eye disease, and has noticed her vision becoming progressively worse.
"About a year ago they said they couldn't help me anymore, and since the injections have stopped, it has gotten worse.
"I'm getting older and turning 80 in February. So I have got to expect these things," Donnella says.
I Have a Dream, Blue Smoke and Somewhere Over the Rainbow are just some the tunes Donnella loves to play daily on her keyboard at home.
When Donnella performs live she will only play songs she loves, and the piano has to be a Yamaha.
"I don't mind performing as long as I'm not interrupted and I get to play what I want to play."
When she sees a Yamaha piano out in public, she can't keep her hands off it.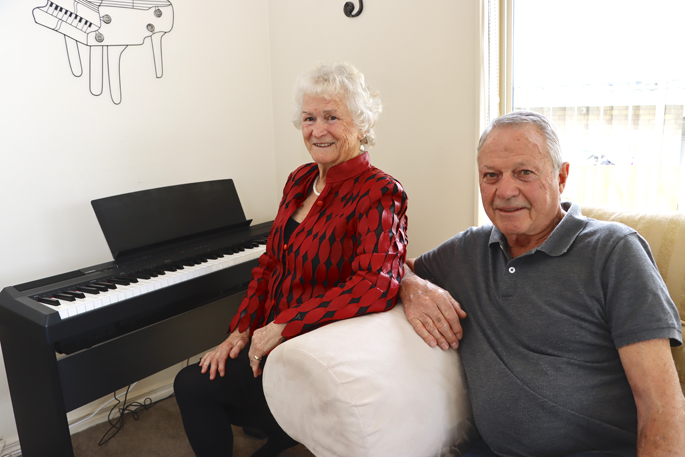 Donnella and her partner of 17-years Maurice Daily in their Mount Maunganui home.
And her partner of 17-years Maurice echoes this sentiment.
He spoke of a time a few years back when Donnella performed 'How Great Thou Art' to crowds of people on a Yamaha grand piano during a cruise the pair took around Australia.
"I fell in love, and I snuck up to it and lifted the lid. It was so beautiful, so I started to play. And I had everyone cheering for me at the end," she says.
"Wherever I am, if I see a Yamaha I will play. I can't help myself."
Donnella is one of only 836 Deafblind clients of Blind Low Vision New Zealand, previously called The Blind Foundation.
She says support from the organisation over the past few years has been incredible.
"They have always been very helpful, and they have always been there when I need them."
Along with playing the piano and accordion, Donnella says she is also a talented ukulele player.
She plays all three instruments for Bay of Plenty locals in community clubs around Tauranga including the Tauranga RSA.
She says she doesn't plan on stopping anytime soon.
"Music keeps me happy, and it keeps me going. I don't sit round and think about what I should do – I go and play the piano.
"And when I am learning a new song, I will sit there until I have got it."
The Blind Low Vision is currently holding their annual appeal which runs until November 3.
Subscribe to our daily Newsletter
Email: