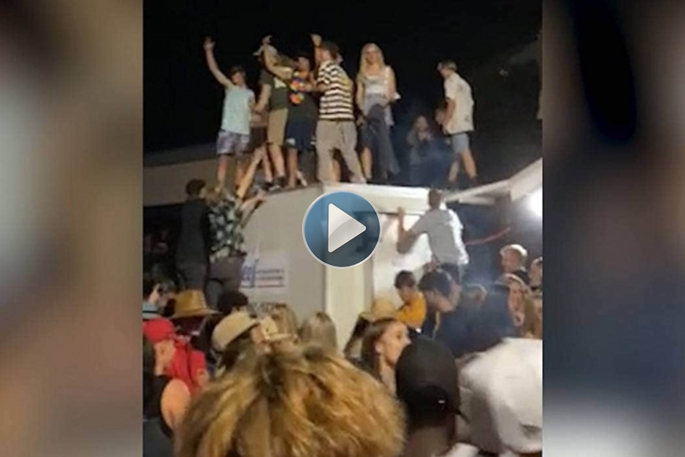 Click the image above to watch the video
Police are still asking for video footage to identify and prosecute teenagers who inflicted thousands of dollars' damage to a popular Coromandel beachside cafe on New Year's Eve.
Around 22 people were arrested after events at Williamson Park.
"Police investigating the disorder are looking for any videos or photos taken by members of the public," says a police spokesperson.
"Around 22 people were arrested after events at Williamson Park, and Police continue to investigate.
"As part of this we remain keen to hear from anyone who has videos or photographs of what happened which may depict those involved.
"If you can help, please upload any footage or photos to 105, here https://www.police.govt.nz/105support, with Attention: Sergeant Will Hamilton."
Tauranga teenagers Oscar Sandoy and Lily Anderson were in Whangamata on New Year's Eve and witnessed some of the events.
Oscar says after about 10 minutes of finding a "nice little pozzy" by some picnic tables by a cafe, thousands of people swarmed the area.
They were really young, about 15," says Oscar.
"Then three people jumped on the roof and everyone jumped on the band wagon and decided they wanted to jump on the roof as well. And then everyone started to fall through the roof. I've never seen humans falling through a roof before.
"We were sitting at our table and when we saw a foot go through the roof Lily got her phone out. But then we decided to get out of there so went across the road."
Oscar says that's when police and parents arrived.
"There was only one cop at first and he couldn't do much," says Oscar. "We couldn't believe how many people were on the roof.
"Then the booze bus came and about six cops jumped out of the car and that's when we left and went back to our place as we didn't want to get involved in it."
Later, he saw people walking back.
"There was a girl lying on the ground. We heard she got kicked in the head. Cops came over and she didn't move for like ten minutes. Heaps of other people got in fights. They looked real young like 12-13 but probably 15 -17-year-olds.
"And there's now roofing plastic sheets falling down everywhere at the café - and glass, it's been ruined. It's real messy."
Oscar's group decided to leave Whangamata the next day.
"There were just way too many people causing trouble," says Oscar.
Subscribe to our daily Newsletter
Email: