A campaign to spread awareness for a degenerative muscle disease called Facioscapulohumeral Muscular Dystrophy, or FSHD, is set to begin on May 1.
The aim of the campaign, which is run by the FSHD Global Research Foundation, is to build muscles for those who can't, and importantly, drive awareness and funding towards finding treatments and a cure for FSHD.
The Muscles for Muscles squat challenge is a month long campaign which will run throughout the month of May.
People can participate by registering as an individual, or register your "Squat Squad" and recruit your family, friends, and colleagues to join your team.
The FSHD Global Research Foundation hopes to collectively achieve more than one million squats over the month of May.
The number, which may seem large, represents the amount of people worldwide who live with this debilitating disease.
For many people living with FSHD, doing a squat is near impossible, which is why those who suffer from FSHD are able to invite family and friends to participate in the challenge, and build muscles on their behalf.
FSHD Global Research Foundation NZ ambassador Jodie Thorne was diagnosed with FSHD at 12 years of age.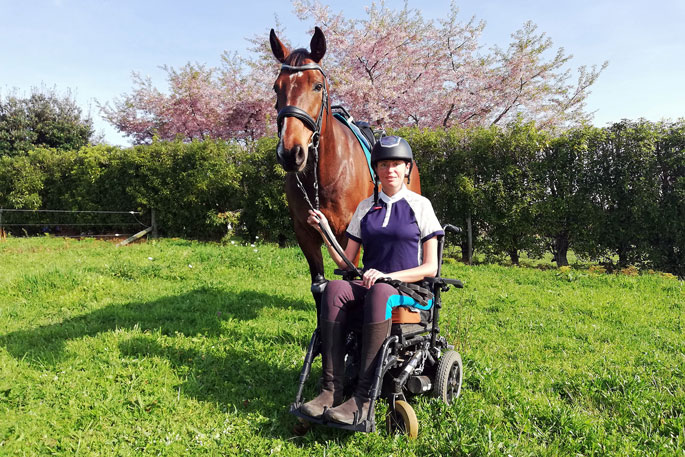 FSHD Global Research Foundation NZ ambassador Jodie Thorne.
The diagnosis came after her majorette teacher noticed Jodie couldn't hold her arms up in the air for a move needed for a routine.
After her diagnosis, Jodie only had one question for the doctor -- "Can I still ride horses?"
After a 12 year break from horse riding, and a move to New Zealand from the United Kingdom, Jodie started riding again at her local Riding for Disabled Centre at 27 years old.
"It was a lot different than I remembered, with my muscle weakness a lot worse than when I last rode a horse as a child.
"I worked hard through an 18-month RDA therapy programme to develop my riding skills again, and in 2010 I was ready to take the step back into para dressage competition," she says.
Although Jodie's mobility will continue to decline in the future, she is determined to keep going as much as she can, while she still can.
Last year, Jodie's friends made a team for the Muscles for Muscles campaign.
They also had Beyond Physio and Bureta Physio both enter teams too, for a bit of fun local rivalry.
"It's a fun, healthy challenge and it's great to start the conversation about what FSHD is and how it affects those of us with it.
"We really want a treatment for this degenerative condition, and the FSHD Global Foundation are making big leaps in the research side, so hopefully that cure isn't too far in the distance," says Jodie.
Participants are asked to kick-start their fundraising campaign by contributing $20 at the time of registration.
Donations received from the fundraising campaign will directly support the quest to find treatments and an ultimate cure for FSHD.
Some ideas for participants to run their campaign include:
• Setting a daily squat target to achieve
• Planning a 24 hour challenge during the month of May
• Dedicating 1 day per week to achieve a set amount of squats
• Joining the Super Saturday on 15 May and have your team commit to a squat target
• Each Tuesday, running a Turbo Tuesday session and committing to a squat target during your lunch or after work or at your gym.
Subscribe to our daily Newsletter
Email: