Tauranga, Coromandel and Taupo teams excelled in the Bay of Plenty finals of the Vista Foundation 48 Hours competition, announced on Thursday at an event in Rotorua.
'Impalpable' a short film made by the Temporary Estate team from Tauranga brought a poignant moment to the screen, also winning them the City Manager Bring in the Feels award, the Best Use of Sound Effect, and the Best Use of Character award.
The Temporary Estate's youngest team member and one of the stars of their film is Janneke Wills, age 7 months. Other team members are Frank van Rijen, Toni van Rijen, Peta van Rijen, Ryan Wills, Anja van Rijen, Solomon Caldwell, and their sound and post production person Paul Harling who worked remotely with them over the competition weekend from his home in Wellington. Peta van Rijen from Temporary Estate also won the WIFT Outstanding Female Filmmaker award.
Runner up was Tinker Tailor from the Coromandel, who won the Bay of Plenty competition in 2018. Their film 'Refraction' also won the Best Script award.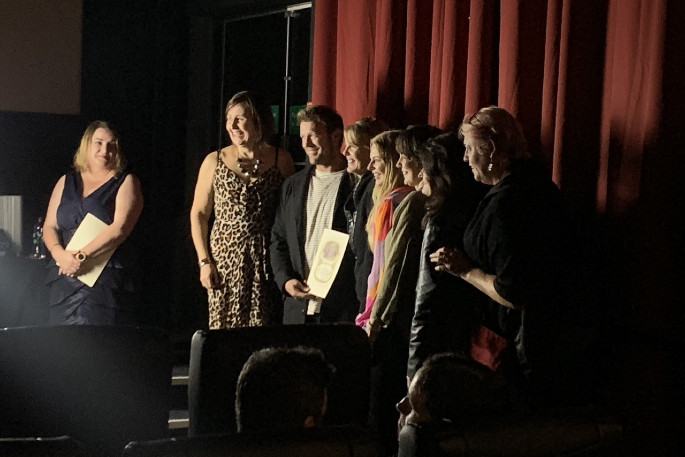 The Eddie Page team, from Tauranga, received awards for Best VFX for Sandi Cutts prosthetic makeup work, Best Use of 'Something Invisible' award, and Best Original Score/Song Band.
"It was amazing to see the films that people came up within just 48hours," says Annie Lawler who coordinates Vista Foundation 48Hours for the Bay of Plenty region. "The creativity, skills and teamwork obviously improve year on year and I look forward to seeing how our region does in the national finals coming up next month."
Eighteen Bay of Plenty teams competed in the Vista Foundation 48Hours film competition on the first weekend in March, with moments of pure ecstasy, absolute exhaustion, extreme bonding and meltdowns in what is NZ's largest guerrilla film-making competition, aiming to make the best short film in just 48 hours. An additional weekend for the Auckland teams ran the following weekend once the Auckland region dropped back to Alert Level 2.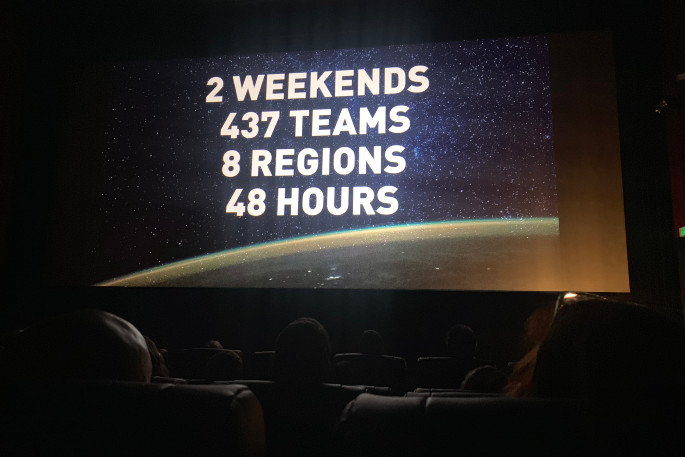 Filmmakers didn't know what genre they will be shooting until the start of the competition.
All writing, shooting, editing and adding a musical soundtrack must occur within the 48-hour window beginning Friday evening at 7pm and ending Sunday at 7pm. To add to the mayhem, they must also include some random elements.
This year there were 11 different genres. The compulsory elements to be included were 'something invisible', a heartbeat, a reaction shot, and a reluctant, unlikely or anti-hero character.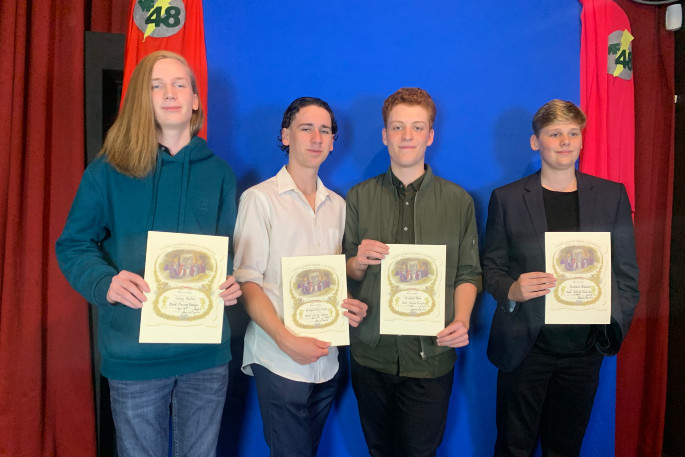 Corey Bates, Ethaniel Nogaj, Shakeel Roa and Cameron Alers from Budget Boy Films from Tauranga Boys' College. Missing is team member Marrack Harrison.
The competition also had a school section, attracting young filmmakers from around the Bay of Plenty. The top school team award went to Budget Boy Films, a team from Tauranga Boys' College who filmed 'Rien Ici'. Budget Boy Films also won the Best Sound Design award and the Best Use of Genre award.
The Great Lakes Film Society team who are from Taupo, and won the top Bay of Plenty prize in 2019, won awards for Best Production Design, Best Cinematography, and Best Editing.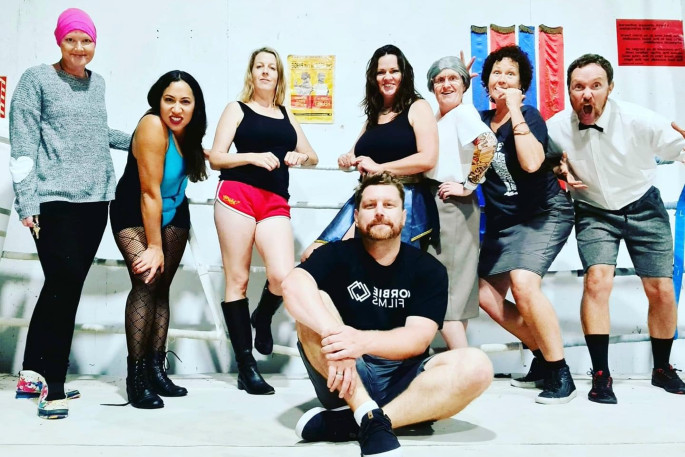 The Great Lakes Film Society team. Photo: Supplied.
The genre that the Great Lakes Film Society were given this year was particularly poignant.
"We had an awesome day filming our 'Race against Time' genre at Nuki's boxing Gym in Taupo," says team member Kerence Stephen.
Kerence says the location and theme to their film are unintentionally symbolic.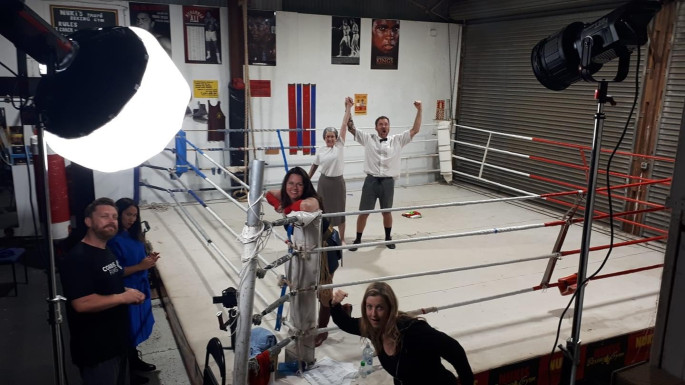 The Great Lake Film Society team filmed at Nuki's boxing Gym in Taupo. Photo: Supplied.
"Two of our team were undergoing treatment for cancer at the time of filming and literally fighting for their lives," says Kerence.
"One of our lead cast who was thrown around the ring all day had been recently diagnosed with multiple myeloma. We're so grateful for the fun, laughter, positive energy and good times that 48Hours provides."
"Our team are such an amazing bunch and the fun we have together is seriously medicine for the soul," says Kerence. "The fighters in our team are so positive and truly inspirational."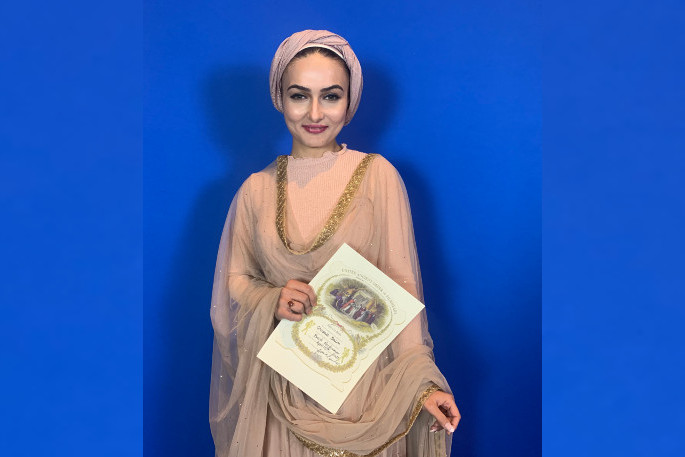 Ghazala Salim. Photo: Rosalie Liddle Crawford.
Ghazala Salim, who has previously acted in Bollywood films won the Best Performer award for her performance in Team Goodas's crime film 'Number 15'. Team Goodas also won the Best Use of Technical Element award.
The Best Animation award was won by Sagewood Studios for their 'Puddles' musical.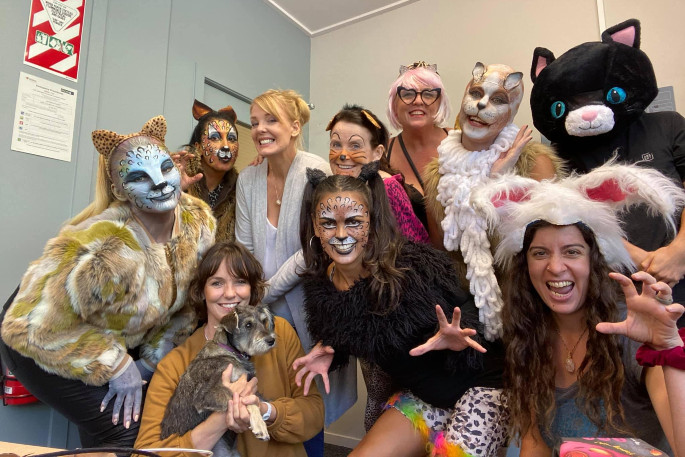 The Eddie Page Productions team. Photo; Supplied.
Tauranga team Eddie Page Productions, with their film 'Joyless Pussies' won Best VFX for Sandi Cutts prosthetic makeup work. The team, who were given 'romantic comedy' as their genre, also won the Best Use of 'Something Invisible' award, and their Furry Fun band, made up of Jahrulious Pick, Karl Oemcke and Gerrard Pollock won Best Original Score/Song Band.
Nutty Mosquitoes won the Best Under 18 Film for their film 'The Breath of Death'.
The Best Disqualified Film award was won by Hands On, who unfortunately had a technical issue while editing and were unable to upload their film in time before the 48 Hours competition ended at 7pm on the Sunday night.
The Bay of Plenty heats were screened on Facebook and Youtube on March 18. The regional final was on April 15 in Rotorua. The grand finals in May will have the finalists screened in Auckland, live-streamed and shown on TV2. Information on the competition is on the website: www.48hours.co.nz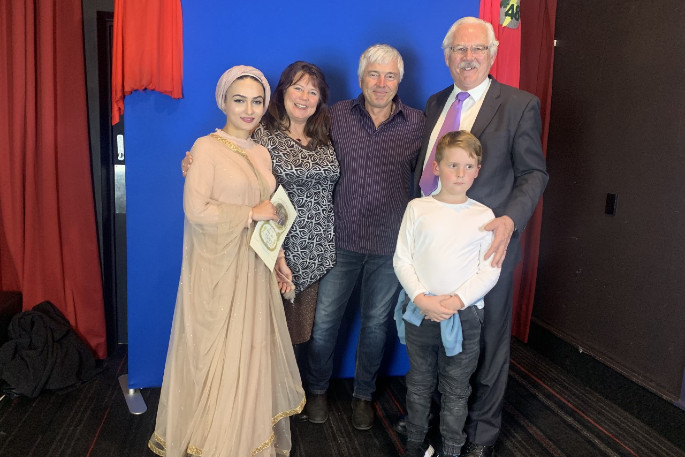 Team Goodas. Photo: Rosalie Liddle Crawford.
Subscribe to our daily Newsletter
Email: