Builder Michael Voss became the first winner ever today of a brand new sporting event in Mount Maunganui, Ultimate Athlete NZ.
Michael was first to cross the finish line of the elite race, Ultimate Beast, with 24 challenging obstacles across 10km.
The 24-year old, a builder from Rotorua, completed the race in 43 minutes. He says his occupation gave him the edge.
"I wasn't expecting to win as although I've done some half marathons, nothing serious,: he states.
"But there's a stretch when you have to carry a heavy sandbag up Mount Drury and I am used to doing stuff like that at work."
In the equivalent female elite race, Lydia O'Donnell was the first woman to cross the line in 50 minutes and 13 seconds. A professional runner, Lydia has held national titles in the 5,000 meters, 10,000 meters and the half-marathon and has represented New Zealand in Cross Country, Half-Marathon and Marathon distance events. The Ultimate Beast wasn't all plain sailing for Lydia, even with her experience.
"The obstacles were definitely challenging - particularly the sandbag uphill."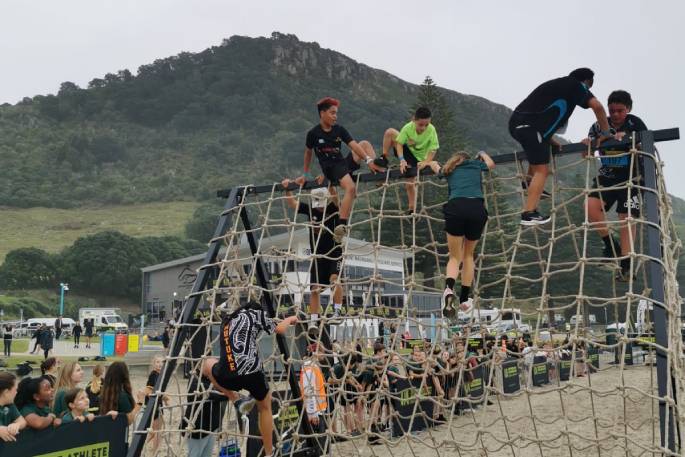 Participants young and old have enjoyed the obstacles.
It was a special day for Lydia to win in front of her family who were all there cheering her on.
"It is mum's birthday today and dad is here too - he has brain cancer. So we are going to spend the day together and then I will be back for the after party later."
Both Michael and Lydia win $5000 each, as well as a kit from Under Armour. Lydia says she will plough the money back into her coaching business Femmi, which provides running coaching for women.
Michael and Lydia are just two of the thousands of competitors running today at Ultimate Athlete NZ. You do not have to be Iron Man to take part, says chief marketing officer Josh Millan.
"We designed it so people of different levels of fitness can run too," he says.
"So in the top tier races yes there might be professional athletes and surfers, but there are different levels and team races too. So even if you are just a casual runner, you can still come along with friends and give it a go. Yesterday we had schools racing and they loved it."
Mauao's base track, Mount Drury's elevation and Main Beach's soft sand are all being utilised for the event, along with purpose made high-spec obstacles such as monkey bars, inverted walls and cargo nets.
Josh says a team from the New Zealand Defence force has entered whilst other teams were focusing on their style rather than performance - dressed in tutus and fluoro makeup.
Boxer Joseph Parker has been supporting the event. Other well known faces were milling around including dancer and DJ Lance Savalli who has worked with Rihanna, JLo, and Beyonce, and social media and reality star William Waiirua. Surfer Maz Quinn is taking part as are former All Blacks Liam Messam and Troy Flavell.
The Mount event is the first of many across Aotearoa and internationally.
"We are already talking about an Auckland event," says Josh.
"And Australia - like the Mount, Bondi Beach would make a perfect location. Obstacle racing is a big thing at the moment and is growing in popularity across the world. It's even earmarked as a possible future Olympic event."
One of the key goals of Ultimate Athlete is to raise awareness of how physical activity improves mental health.
"It's been a difficult time for all with the pandemic affecting many people's mental health. Nothing beats getting out in the sun on the beach and this is a mass participation sport which brings people together. Even if you just want to come and watch. Putting smiles on faces - that is what we are doing."
Ultimate Athlete raises funds and awareness for three key mental health charities: Mike King's charity I Am Hope, which provides free counselling to youth, Bring People Dancing, based in Tauranga, also supported by Mike King, connects people living will mental illness with a mentor who will take them to a music event, and also One Wave, which aims to reduce stigma around talking about mental health through surfing and fluro parties.
Josh says thousands more spectators were expected for the start of the team races at 2pm.
He wanted to thank Tauranga City Council who had got behind the event,
"They often get bad press but they were fully behind this and so helpful. They've been great."
The high calibre of sponsors that the event attracted indicates its potential, with Toyota, Under Armour, Red Bull and Heinekin all supporting the event.
At the end of the day participants can strip off their running gear and put on their dancing shoes for an R-18 after party at Mount Maunganui Lifeguard Club ($10 entry for non competitors). Lance Savali is DJ. Josh says it is the perfect end to a day of fun.
"After the Ultimate Athlete, we had to provide the ultimate after party too."
Subscribe to our daily Newsletter
Email: