Two intermediate and primary school chess teams from Rotorua and one college chess team from Tauranga have qualified this week for the national chess finals of the New Zealand Interschools Championship in October.
Over three days from Wednesday to Friday, more than 190 players from primary schools, intermediate schools and colleges spanning Coromandel to Eastern Bay of Plenty came to compete at Pillans Point School in Otumoetai.
The NZ Chess Federation Bay of Plenty Region Interschools qualifying events are split into 21 geographic regions. In each region the top primary, intermediate and secondary school qualify to play in the national finals.
The Bay of Plenty region encompasses schools and colleges from eastern and western Bay of Plenty, Coromandel and Rotorua.
During 2020, the impact of COVID-19 meant that the NZCF Regional Interschools program was suspended in March 2020, but restarted again in June. The 2020 National Finals were held at Mount Maunganui in September.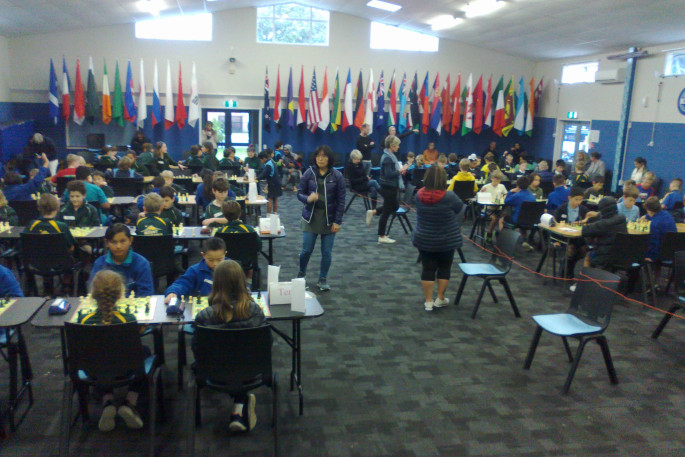 The Bay of Plenty Interschools chess tournament at Pillan Points School. Photo: Caleb Wright.
The Bay of Plenty Interschools event at Pillan Points School this week was organised by the Mount Maunganui RSA Chess Club supported by the Tauranga Chess club. The three-day tournament was split into the three divisions, with one division playing each day. Six rounds were expected per day.
"This is excellent experience for all participants regardless of results," says organiser Caleb Wright.
In the Bay of Plenty primary school division, the winning school was Lynmore Schoool, with Pillans Point School second, and Malfroy School and Waihi East school coming third equal.
John Paul College won the intermediate division for the Bay of Plenty, with Mount Maunganui Intermediate in second place, and Tauranga Intermediate third.
In the Bay of Plenty secondary school division, Otumoetai College came first, John Paul College second, and Whakatane College third.
The three winners go on to compete in the national finals being held in Auckland on October 2 and 3.

Subscribe to our daily Newsletter
Email: