Paewhenua dairy farmer, Terry Gregan, spent the first 10 years of his life on a dairy farm near Whatawhata. The rest of his childhood was spent on a 10 acre lifestyle block.
"I was always obsessed with tractors and although I had been milking as a teenager, I decided to train as a mechanic," says Terry.
After completing his apprenticeship, mainly working on bulldozers, Terry worked on and off in Western Australia driving road trains and working on cropping farms over a 35 year period.
On his return to New Zealand, he quickly moved from 50/50 sharemilking to 170ha, 500 cow farm ownership in Paewhenua, in just over a year. With his wife Nancy keen to run the farm with her 2IC, Terry has more time to follow his passion for restoring and working on old tractors.
"I'm more of a fencing and tractor work kind of farmer now, and I milk when I have to."
He has his dad's 1954 Ferguson TE20, which he remembers the family buying in 1964.
"I moved it from the Whatawhata property to Paewhenua, restored it, and joined the Ōtorohanga Vintage Machinery Club."
Terry carried out the majority of the panel and paint work himself, as it was mainly a few rust spots and dings, plus some re-chroming. Underneath the bonnet there is a four-cylinder Vanguard petrol engine.
"It's got the Ferguson hydraulic three-point hitch system and I have some Ferguson implements that can be attached to the back."
The little toolbox beside the engine has been sign written with the name Frank, in honour of Terry's father.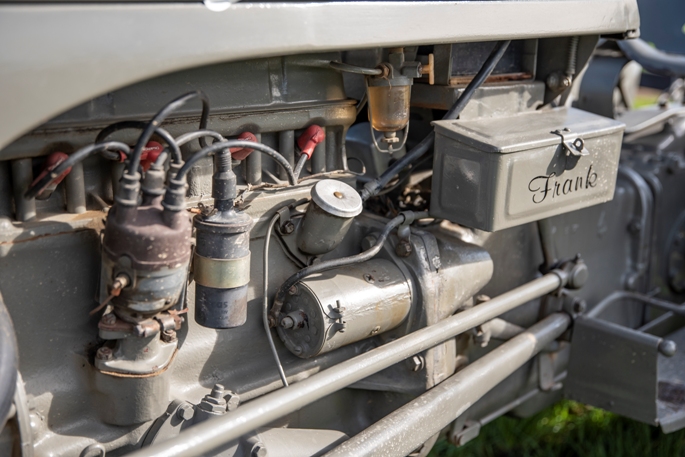 The engine of the 1954 Ferguson TE20, complete with sign written tool box in memory of Terry's father, Frank. Photo: Catherine Fry.
Terry admits he's not a fan of the traditional grey colour, much preferring the red and grey colours on the later 1970s Massey Ferguson 100 series. Nonetheless, his dad's little grey Fergie "would be the last to go" as it has a special place in his heart.
Since joining the vintage machinery club, as is usually the case, Terry's collection has grown and he's currently housing 10 tractors in his shed. They are the favoured red Massey Fergusons he prefers, and some are restoration projects he is doing for other people.
While his dad's grey Fergie doesn't work on the farm, it is still brought out at club events. The other tractors are used around the farm and for tractor treks.
"For me it's all about the history and the stories behind the tractors I restore. That's what I love."
Subscribe to our daily Newsletter
Email: