A three-year package of initiatives designed to attract New Zealanders to tourism careers has been launched at TRENZ 2019 in Rotorua this week.
Along with the package, Wellington company Lightning Lab also announced a system by which tourism businesses could improve promotion of their product.
Spokesman Brett Holling says following strategic programme initiatives could move things in the tourism industry.
He made his address in the final segment of a briefing before at least 110 news media representatives in Rotorua for the expo.
Later the media team were taken to various popular tourism areas around the Rotorua district.
The expo at the Energy Events Centre attracted the good and great of New Zealand tourism enterprises, including retired All Black captain Ritchie McCaw, now a tourism helicopter pilot.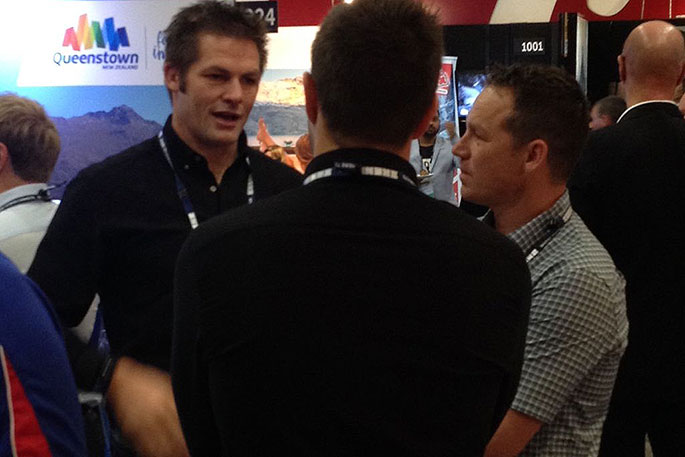 Ritchie McCaw representing South Island helicopter interests TRENZ.
"He is our highest profile celebrity," TIA (Tourism Industry Aotearoa) media liaison Ann-Marie Johnston observed.
Lightning Lab was not the only media of its type in New Zealand, Brett Holling admitted. It is predicated on high impact moves for tourism. His company worked with 100 companies. It has worked in a variety of sectors, not just tourism.
Why tourism? Leaders in the industry realised it was ripe for innovation. Utimately, it had tourism support. They were about putting a plan together to support the doers. A programme was put together based on tourism themes, with input from key NZ companies.
Meanwhile, building on the range of workforce development activities already underway across the industry, the package is designed to:
■ Improve knowledge and perceptions of tourism and tourism careers.
■ Make it easier for young people to experience tourism careers through activities like industry open days and placement programmes.
■ Ensure those entering tourism employment have a positive experience so they stay in the industry.
This will include activities like employer support and mentoring programmes.
The package aims to help attract the estimated 40,000 new employees needed to support tourism growth over the next five years.
It will complement and expand on the work already being done through other programmes to attract and retain talent.
The package is estimated to cost $1.9 million. TIA is currently seeking funding from government and other sources.
Meanwhile, many prominent national and local tourism businesses were proving popular.
Weta Workshop, of Miramar, Wellington, was an attraction, its corner display guarded by a life-sized statue of Gandalf, with a Madame Tussaud likeness of actor Ian McKellen.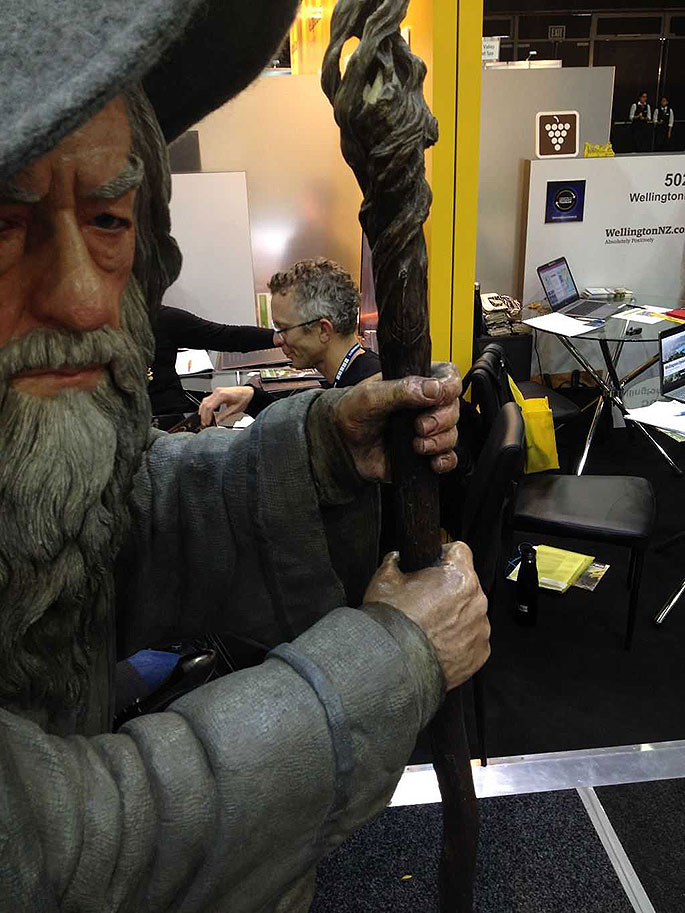 Gandalf playing Ian McKellen or Ian McKellen playing Gandalf? Weta Workshop in Rotorua at TRENZ.
Local Duck Tours owner Trevor Weir was on hand, too, marvelling that it seemed like yesterday his 16-year-old entry into the Rotorua market continued to succeed.
Duck Tours attracted attention for its amphibious landing craft, a machine used to ferry troops across the English Channel during the Normandy invasion to help end WWll.
Age added to regular maintenance; we said he was fortunate his operation carried custom to fresh waters not salt water which hindered longevity.
He agreed. But a machine not really designed to continue a further 70 plus years on construction has endured, and betokens a quality product compared with much of today's road transport.
Subscribe to our weekly Newsletter
Email: