A full-throated powhiri marked the final stages of a section of the East Rotoiti/Rotoma wastewater scheme today.
Local politicians and residents attended the nearly completed treatment plant, which is soon to be commissioned.
The ceremony was held on the Taurua Marae.
Short speeches were delivered by Rotorua Mayor Steve Chadwick, who unveiled a plaque, and Waiariki MP Tamati Coffey, who planted a tree with Wharepouri Emery and Meri Curtis in commemoration.
Steve says the project is one of the last of its type to receive a government subsidy.
She acknowledged the patience of hapu and says the people of the land are here to stay.
"This land is perfectly placed and here to stay.
"The sustainable of how we look after our asset is more than just symbolic," she says, praising one of the principal guests, former MP Ian McLean who, on the back of an Environment Court judgement, chaired meetings to unite the local authorities with hapu.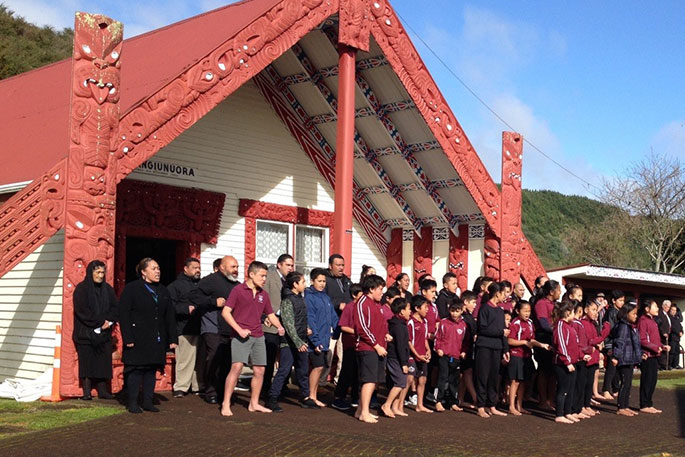 A welcome to Te Rangiunuora Marae at Rotoiti.
It was the beginning of the Te Tatau relationship.
The investment at this stage is worth $24million.
The Rotoma area is ready to be switched over to operate on the new system.
Close to 200 of the 212 houses in the area are to join the scheme, which will receive wastewater from the wider Rotorua area.
The switchover phase has begun and will gradually be implemented over the next two months.
A shift of Rotorua and Bay of Plenty regional councillors along with engineers who oversaw the project boarded a bus from Rotorua.
Eventually, properties at Rotoma with Septic Tank Effluent Pre-treatment or STEP tanks installed will be transferred to the new wastewater system.
So far, a total of 153 STEP tanks have been installed on Rotoma properties.