A sum of $20 million package to expedite the upgrade of Rotorua Museum has been announced today.
The announcement came on the iconic museums 111th 'birthday' which began when the building started in 1908.
Prime Minister Jacinda Ardern confirmed at the Blue Baths $15m had been generated from the Governments Provincial Growth Fund.
The balance comprises a grant from the Ministry for Culture and Heritage Regional Culture and Heritage Fund.
Jacinda was accompanied by PGF Minister Shane Jones who noted the government had spread a "lot of pixie dust" in Rotorua recently.
While $20m will boost the rebuild of the Bath House as it is also known - damaged by earthquakes in recent years - the sum falls $5m of the $55m target.
"This particular landmark looms large in the thoughts of people," Shane Jones said.
The Prime Minister says Rotorua is close to her as she lived in Murupara and frequently visited Rotorua, and she had significant memories of the city.
Today is 111th birthday of the Bath House, hence the significance of the visit and today's announcement.
"The building had to be upgraded or demolished," says Jacinda.
The money will go towards seismic strengthening, she says.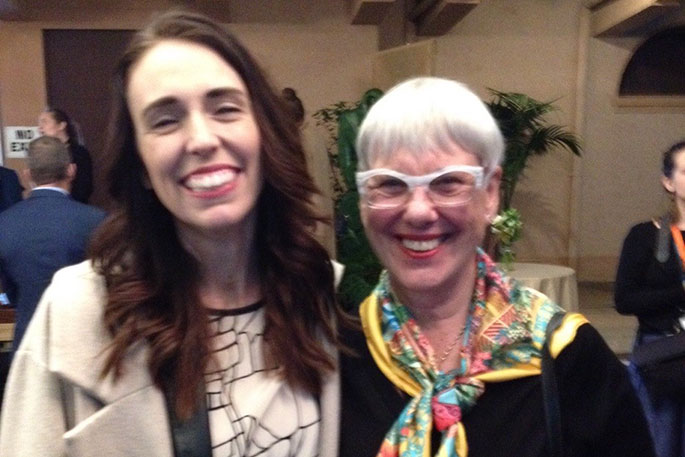 The Prime Minister Jacinda Ardern with Rotorua Mayor Steve Chadwick in Rotorua this morning.
Redevelopment around Rotorua which will include the Lakefront will lead to 371 jobs, she says.
She paid a tribute to Rotorua Mayor Steve Chadwick who was relentless in her advocacy, the PM says.
Steve says it's a special morning.
"We can now start the rebuild. It shows confidence in the community - this treasure is bigger than all of us."
The Bath House and other developments will contribute to the growth of the community.
The Bath House symbolised Rotorua's beating heart.
"Our community walks with us.
"It's a wonderful local project."
She praises the Minister of Finance Grant Robertson, who had knitted the strands to facilitate the finance.
The rebuild can now start which means it will also be finished following the damage caused by the earthquakes.
Around 180 invited guests attended the announcement.