The theme over the next few days is to get warmer and warmer as sub-tropical winds kick in - before a late week cool down in the south.
"To give you perspective, parts of the South Island have overnight lows this week that are very similar to the maximum daytime temperatures they had last week during the cold, wintry, southerlies," says WeatherWatch.co.nz
"Daytime highs are well up with a number of places expected to make it to the 20 degree mark this week, maybe even the mid 20s for some spots in the east or inland.
"High pressure to NZ's east coupled with a developing Tasman Sea low will encourage the sub-tropical flow for the next few days ahead."
There is a cool down coming for the southern half of the South Island in particular later this week. Friday looks to be the peak of this next "wintry change".
"Also, not every single part of NZ will be warmer than normal in the days ahead, even if about 85 to 90 per cent of the country is.
"If you look closely at the maps, some coastal areas that face into the wind (so northern areas facing into a northerly quarter wind, for example) won't be so warm as this air comes straight off the sea. As Aucklanders have seen lately it can also be cloudier which limits the heat too."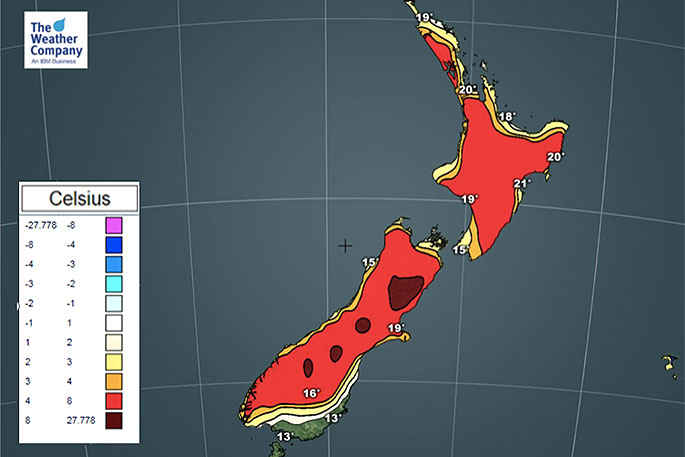 Maximum temperature departure from normal on Wednesday.
Wednesday looks to be the warmest day nationwide before the cooler change arrives in the lower South Island across Thursday and into Friday.
Subscribe to our daily Newsletter
Email: