Charles Sturt is in the final week of his 33 years as a Rotorua Lakes councillor.
Ill health has forced him to retire. He is succumbing to bowel cancer.
Over the years, Charles has been the subject of many stories and controversies. But he has remained of and for the people he represented.
Despite the high-profile stories, a whimsical feature about an imaginary cricket team assessment published in the Rotorua Review on July 24, 2007, remains his favourite.
As our tribute to Charles, and at his request, we reproduce the article below.
Jim Anderton, Cabinet Minister and Progressive Party leader, said he once faced Marlborough and New Zealand fast bowler Gary Bartlett in a representative cricket match. It was a match this correspondent reported for the Marlborough Express and the Whanganui Chronicle.
The experience of a few terrifying overs from Bartlett on Horton Park, Blenheim, hardened him for politics. Nothing in politics had ever fazed him, Jim said.
I also had the fortune to play in a match or two with the legendary pace man (much safer than against), still easily the fastest bowler for New Zealand, even in the Richard Hadlee/Danny Morrison/Shane Bond eras.
As a chumpy 14-year-old lick at school, facing Bartlett in the nets prepared me for later life in reporting such as chambers of commerce meetings.
Of all sports, cricket is the most fanciful – politicians, entertainers, public bar Hamlets, Jeremiahs, wheelwrights, playwrights, coal merchants, clerics, lawyers, accountants and penny divers are all attracted to its nuances.
Through years of reporting Rotorua District Council meetings, one is drawn to a cricket analogy in assessing the performances of our current elected members.
One is mindful, however, of the bother The Dominion newspaper in Wellington (where I worked for five years) faced when, by accident, an imaginary cricket match involving the judiciary slipped into its inky canals.
The story appeared in the newspaper's first edition and was hastily pulled for the second amid great embarrassment, entering newspaper lore.
The story was concocted during a slow news day at the courts and was not intended for publication.
Our cricket match would involve all 13 elected members, including the mayor.
Where would they be positioned? Do any of them understand the game?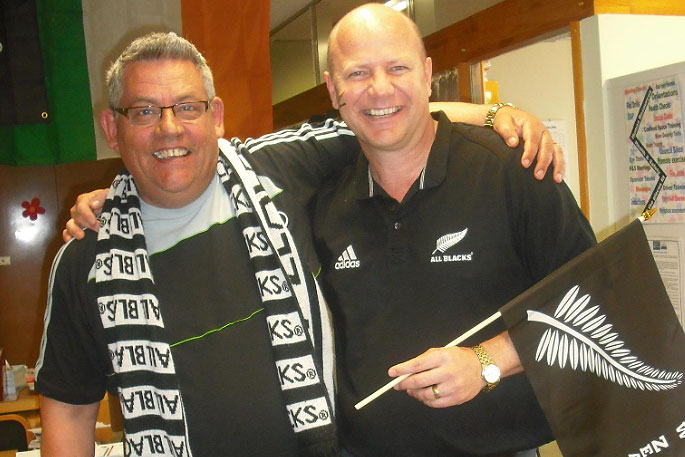 Charles pictured in Perth recently with former Rotorua Lakes councillor engineer Nico Claassen.
Here is our allusive line-up:
Mayor Kevin Winters wicketkeeper, opening bat: selected to open but willingly shares the role with Trevor Maxwell, this halving the limelight. More of a deliberate Geoffrey Boycott rather than a clubbing, belligerent Matthew Hayden [Australian opening batsman]. Fielded a few bouncers, but faced few overs. Had a settled team compared with previous years.
Trapped leg before once or twice on points or order; generally responded well to instructions from team manager Peter Guerin [RDC CEO then]. Seldom plays to the crowd.
Deputy Mayor Trevor Maxwell, first slip, tail end bat. Safe pair of hands and prefers to bat when the ball is several overs old. Excellent post-match entertainment. Chases everything in the field. No better team man.
Cr Glenys Searancke, first drop bat, cover fielder. Again dependable, insightful, and quick between the wickets. Good, clear calls. Deserves better than a sewerage pump grinder as a trophy. Cultured on drives and severe glances.
Cr Maureen Waaka, second drop bat, fine leg fielder. Spends much time damping down at the popping crease, nervous starter but always good for 30. Can bowl googlies, seldom detects ball spin even when it leaves the hand.
Cr Charles Sturt, opening bowler, No 4 bat. Runs in from a long way to deliver a speech, sprays them a bit and can be hooked for 6. Removed the helmet as he swatted away doubts over the [construction] of the Energy Events Centre. Astute judge of conditions.
Cr Bob Martin, deep backward square leg, middle order bat. Great average, earnest judgement and worth his weight in resource management applications. Always a ton in the offing when he gets his eye in. Safe and patient under the high ball.
Cr Cliff Lee, opening bat, third slip. Unfazed by bouncers, ground grubbers, half trackers of beam balls – unnerved by any opposing serves to his view. Not afraid to shie at the stumps. Would defence his wickets with a toothpick.
Cr Janet Wepa, silly mid-on, average bat. Inclined to wander on the crease, but feeds on wafts over the infield. Can stray with the ball, but on her day can hold up her end.
Cr Mike McVicker, fly slip, middle order bat. Sees the ball early. Unrelenting at probing weaknesses, especially over the Energy Events Centre construction, but also in cost over-runs elsewhere. Can cost runs through overthrows. Good for a quick 30, maybe 50. Keeps an eye on the press.
Cr Geoff Kenny, long on, hard hitting lower order bat. Clearly grew into the role and enjoys life in the middle, relieved the intensity with his joi de vivre and classic quips. Usually wore No 9s to the crease, but with rubber toes. Occasional bowler who can be picked off sometimes through lack of fight and guile. Produces the odd Chinaman.
Cr Mark Gould, some of the best wrong 'uns in the business, upright top order bat. Confused many with punchy, short dabs early, but for his apparent awkwardness always worked hard for his side (read, community). Sometimes left stranded. Valuable asset in camera. [At the time, Cr Gould owned and operated a photographic shop].
Cr Russell Judd, No 3 batsman, deep third man. Greenkeeper. Now developing wider range of political shots rather then multiple straight drives for the environment. Provides the salads for the after-match barbecue in our team.
Cr Charles Te Kowhai, trundler, solid tail ender, long on fielder. A seemingly shy, brief candle which shone more brightly in the last two months. Worth considering again. Plays on more often than his colleagues.
Extras, executive boardroom staff: Peter Christophers, a policy officer, as scorebook keeper. Would make excellent councillor. Honourable mentions: Peter Dine, Jim Nicklin. Patron: Jack Shallard (every club needs a gentleman).