Beer with me

Matt Martin
Sawmill Brewery, the best thing to come out of Matakana since...I have no idea. So I googled Matakana.
There is a cool farmers' market and some sculptures of giant pink snails and elephants made of trees. Nice work Matakana.
There's also the guys at Sawmill Brewery, an independent, New Zealand owned brewery established in 2004 who are killing it with their 3x2 six-packs right now. Lovely clean IPA's, pilsners and lagers, well priced too. Their Homegrown IPA Series has also been excellent.
In February 2016 they moved down the road a bit and opened the doors to the Smoko Room and new brewery in July of the same year. An accidental fire in October 2019 slowed things down a bit, but they rose from the ashes to re-open at the end of July 2020.
Definitely up there in the top 10 things to do while visiting Matakana - probably first, but I could be biased.
They were also the first brewery to send Beer with Me some beers. First in, best dressed.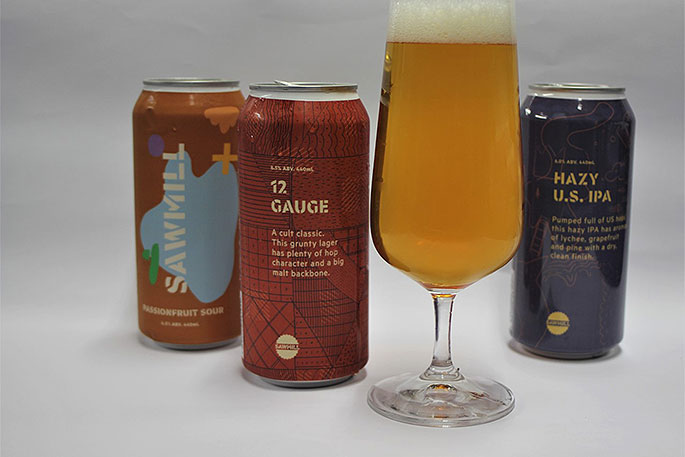 Sawmill's new 440ml can range. From left, Passionfruit Sour, 12 Gauge Lager (the one in the glass) and their Hazy US IPA. Photo/Matt Martin.
Check out the full Sawmill range at www.sawmillbrewery.co.nz.
Sawmill 12 Gauge Lager
A cult classic. This grunty lager has plenty of hop character and a big malt backbone.

6.5% ABV

Gladfield Lager Light and Gladiator malts

Motueka and Rakau hops

German Lager yeast

15 IBU
Larger lager. This is pretty good. Too easy to wash down for a 6.5 per cent lager so look out. Or not.
This is clean and crisp with nicely balanced malts. The classic German Lager yeast gives this banger its deceptive character.
Approach with some caution, kinda like you would a grandpa sitting on the deck in his rocking chair, 12-gauge resting on his lap.
Sawmill Hazy US IPA
Pumped full of US hops this hazy IPA has aromas of lychee, grapefruit and pine with a dry, clean finish.

6.0% ABV

Gladfield American Ale malt

Amarillo, Azacca and Zeus hops

New England Yeast

50 IBU
Like it says on the label, a grapefruit tartness up front followed by hints of citrus pine rounded out by smooth lychee. Not at all heavy on the nose but really smooth and lush while going down the gurgler. The malt is hardly noticed, like a sneaky little garden gnome trying to pinch your carrots, but it gives some backbone to the beer. Typical US-style character - more sweet than bitter.
Passionfruit Sour
A tropical gose style beer brewed with hibiscus flowers and passionfruit. Tart and refreshing.

4.5% ABV

Gladfield American Ale, Wheat and Big O malts

Czech Saaz hops

House Ale yeast

Lactobacillus, Hibiscus and salt

4 IBU
Love a good sour, this is not too full on either so think a bit more 'Biden' rather than Trump supporter sour. If you haven't tried a sour, or gose-style, beer before give it a chance. The passionfruit mellows out the sourness and adds a touch of sweetness to finish. This was really nice, drinkable and definitely sessionable.