New Zealand's greatest Olympian, Sir Peter Snell, was planning on a roast dinner and a game of table tennis when he died in Dallas, aged 80.
Peter's wife Miki told Stuff her husband was having a good day, despite a health scare last month when he passed out while driving and crashed into several parked vehicles.
"He was having a good day, he felt good, he had gone and done some activities, and was planning on doing more - he wanted to play table tennis," says Mike. "He lay down to watch the news on TV and fell asleep.
"I tried to wake him up but he wouldn't move. The paramedics came in about five minutes but they couldn't wake him."
Snell won three Olympic gold medals - the first in the 800 metres in 1960 in Rome - and is the only male since 1920 to win the 800m and 1500m at the same Olympics, in 1964, in Tokyo.
"He was a legend, here and around the world," says Prime Minister Jacinda Ardern. "Our thoughts are with Sir Peter's wife Miki and their family."
"Sir Peter is recognised as New Zealand's greatest ever athlete. He was world class, driven, determined and humble," says Minister for Sport and Recreation Grant Robertson.
"His three gold medals in the Olympic 800m and 1500m in 1960 and 1964 were the peaks of an amazing career.
"Sir Peter's achievements weren't just on the track. He always had a desire to give back to his sport and his country. He remained a proud New Zealander, and is loved and admired by generations of New Zealanders."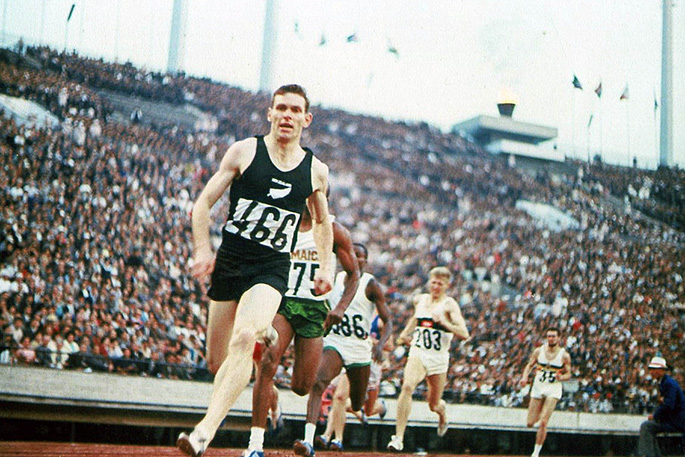 Peter had been looking forward to his 81st birthday on Tuesday. He had had a recent history of heart trouble and a few weeks ago had to call off a trip to Monaco for a dinner honouring world mile record holders.
"But I want people to know," says Miki, "that he was living his life. He was not bed-ridden.
"I've been in a preparatory mode, because I knew he was ill, he has been for ten years.
"But he's done very well, had good quality of life and did right up to his death. He was a major part of my life. It's going to be a total readjustment for me, so it's just very sad."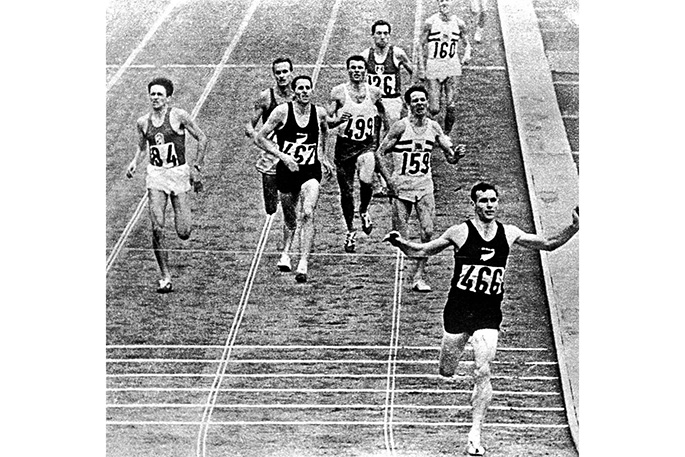 New Zealand Olympic Committee President Mike Stanley said today Sir Peter was responsible for some of the finest moments in New Zealand sport.
"It is with great sadness that the New Zealand Olympic Committee acknowledges the passing of Olympian number 151, Sir Peter Snell," says Mike.
"His achievements are at the heart of New Zealand's sporting history and have helped shape our national identity. The Golden Hour in Rome 1960 was followed by back to back gold medals at the Tokyo 1964 Olympic Games. These incredible races stand out in many Kiwi's minds as among our greatest sporting achievements.
"I extend my sincere condolences to his friends and family and know the wider New Zealand Olympic movement will mourn his loss."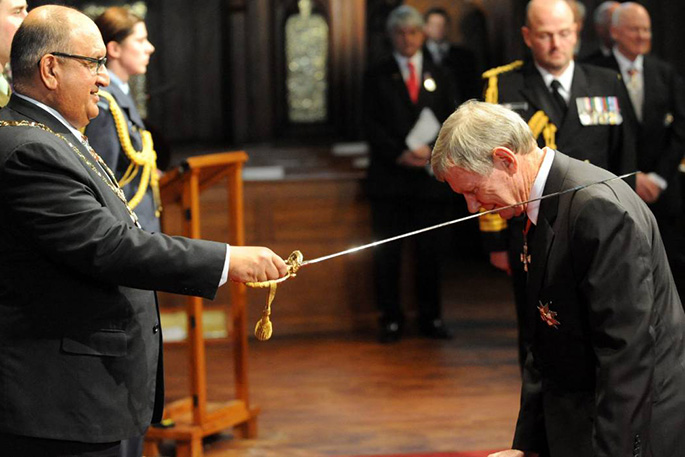 Sir Peter Snell was knighted in 2009. Photo: Ross Setford/NZPA/Stuff
Peter Snell stands at the top of New Zealand sport. In 2000 he was voted New Zealand Athlete of the Century. In 1990, at the inaugural New Zealand Sports Hall of Fame induction, he was given the privilege of being the first person honoured.
Three Olympic gold medals, two Empire Games golds, a clutch of world records and no defeats in major races is a mighty record. Twice he was Sportsman of the Year. He was named 1960s Athlete of the Decade by the authoritative Track & Field News.
"Along with Murray Halberg and the other outstanding pupils of master coach Arthur Lydiard, Peter was responsible for the finest era in New Zealand athletics. Massive crowds flocked to see him, not just in the main centres, but in Wanganui, Invercargill, Tokoroa and Masterton," says Mike.
​Under the tutelage of famed coach Arthur Lydiard, Peter became one of the most dominant middle-distance runners in history, claiming gold in the only three Olympic events he ever contested.
He set world records in the mile and 800m and also won dual gold at the 1962 Commonwealth Games in Perth.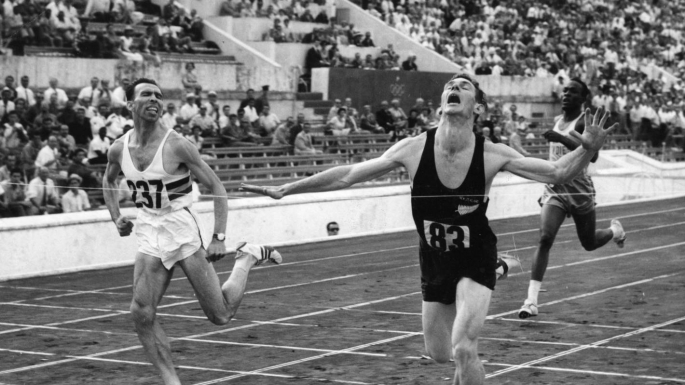 New Zealand's Peter Snell wins the 800 metres at the 1960 Rome Olympics. Photo: AP/Stuff
Peter surprised himself and the rest of the world when he pipped Belgium's Roger Moens to win gold in the 800m in Rome in his first Olympic appearance.
He was then at the peak of his powers four years later at the Tokyo Olympics when he set a new Olympic record when defending his 800m title and made it three gold from as many events by easily winning the 1500m final.
There were so many shining moments in his career that it is difficult to single out a highlight, but Peter once nominated two.
"The first was the final of the Olympic 800m at Rome in 1960," Peter once said. "I was just 21 and when I burst through to win the final from Roger Moens, the world record-holder, I was stunned. I went to Rome hoping to make the final. It was hard to believe that suddenly I was an Olympic champion. I recall looking up to the giant results board above the track and seeing P G Snell NZL at the top of the list. That was one of the great thrills of my life."
Snell's magic afternoon at Rome was completed half an hour later when Murray Halberg won the 5000m gold medal. New Zealand really did rule the stadium that day.
Another moment never-to-be-forgotten came on January 27, 1962, when he lined up at Wanganui, hoping to become the first person to break the four-minute barrier for the mile in New Zealand and ended up breaking Herb Elliott's world record. That race changed his career. He was from then on regarded primarily as a miler.
However, the week after his Wanganui run, Snell smashed the world records for 880 yards and 800m running on grass at Lancaster Park, Christchurch. The times he set that day remain New Zealand records five decades later.
By 1964, Snell - who fitted in quantity surveying study through his career - was looking for a great performance at the Tokyo Olympics to cap his career and he did it, completing a rare 800m-1500m gold medal double.
He was a little concerned about the 800 metres, which came first, because he felt he might have lost some of his speed. However, he cruised through to the final and then ran brilliantly to record the second-fastest time ever (behind his own world record). He won the 1500m title even more decisively, bursting clear with 240 metres remaining and quickly leaving the rest of the field in his wake.
The 1500m race was the first time two New Zealanders had won medals in the same Olympic event, because John Davies was the surprise bronze medallist.
After a world tour in 1965, Snell retired.
Athletes and politicians took to social media to express their thoughts and feelings on Peter's passing.
"Absolutely devastated," wrote Rod Dixon. "Lost my friends Dick Quax and Graham Crouch and today's call was a shock. Peter Snell is New Zealand's Greatest 800-1500 Olympian of all time. Blessings to Miki."
"Sad to hear Sir Peter Snell has passed away," wrote Leader of the Opposition Simon Bridges on Twitter. "Sir Peter was one of our greatest athletes and through his successes helped put New Zealand on the world stage. My and Natalie's thoughts are with his family and friends today."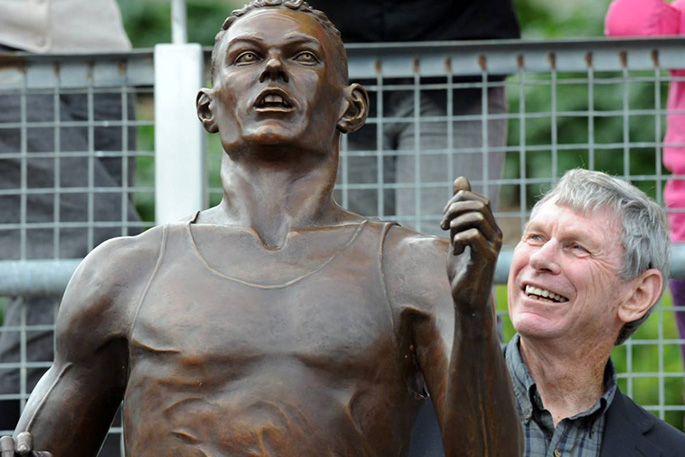 Sir Peter Snell unveils a statue of himself in memory of his world breaking mile run at Cooks Gardens, Wanganui in 2009. Photo: Ross Setford/NZPA
Athlete Nick Willis tweeted "Peter Snell. I don't know what to say really. Just reading his name says greatness to me. He is the greatest ever. Absolute dominance in his era, and 55 years later would still be a medal favorite. Thanks for inspiring generations of New Zealanders. You will be greatly missed."
Keith Quinn tweeted "Peter Snell - one of New Zealand's all-time great sporting athletes; honoured permanently in two towns in NZ. (Wanganui & Opunake) They ensure he will never be forgotten. But the whole country mourns."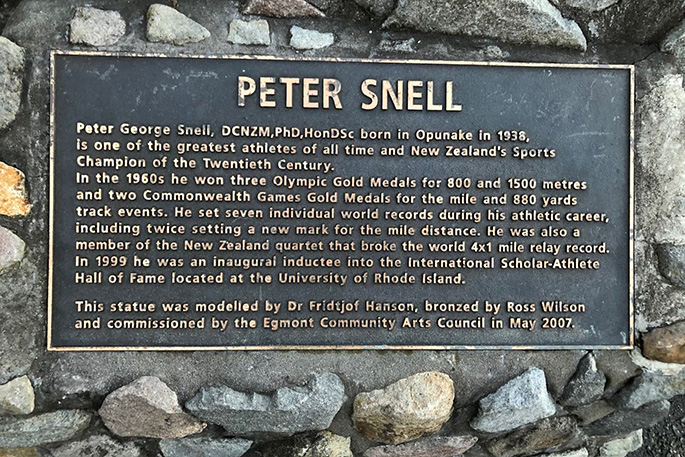 The plaque below the statue of Sir Peter Snell. Photo: Keith Quinn/Twitter
A plaque beneath a statue of Peter commissioned by the Egmont Community Arts Council in 2007 reads "Peter George Snell, DCNZM, PhD, HonDSc born in Opunake in 1938, is one of the greatest athletes of all time and New Zealand's Sports Champion of the Twentieth Century. In the 1960s he won three Olympic Gold Medals for 800 and 1500 metres and two Commonwealth Games Gold Medals for the mile and 800 yards track events. He set seven individual world records during his athletic career, including twice setting a new mark for the mile distance. He was also a member of the New Zealand quartet that broke the world 4x1 mile relay record. In 1999 he was an inaugural inductee into the International Scholar-Athlete Hall of Fame located at the University of Rhode Island."
Peter's athletics career was relatively brief. In the early 1960s, he was an absolute cult figure. If he signalled his intention to run, a huge crowd was guaranteed. Meets featuring Snell often drew crowds of 25,000, even 30,000.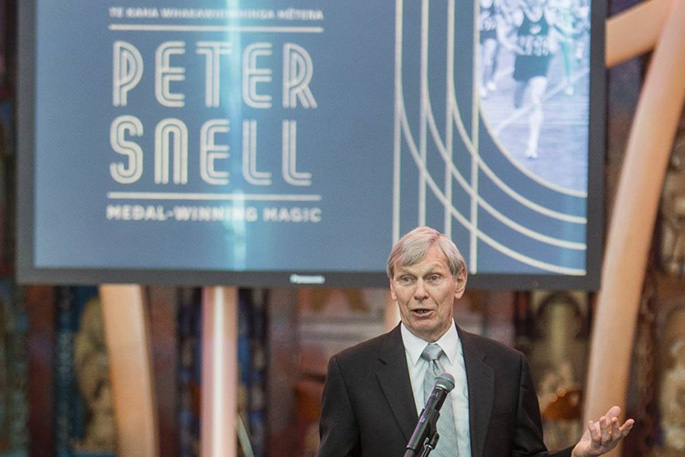 Sporting legend Sir Peter Snell donated 14 items from his personal collection to Te Papa, including two Olympic gold medals, those from the 800m in the 1960 Rome Olympic Games, and the 800m in the 1964 Tokyo Olympic Games. Photo: Robert Kitchin/Stuff
After his retirement Snell worked for some years as the Rothmans Foundation's director of coaching. But he found his name and reputation cloying and longed to achieve more off the track.
A year at Loughborough College in 1971 convinced him he had the ability to achieve academic honours. So he packed up his family and moved to the United States.
From 1974-77, he studied at the University of Californa, earning a Bachelor of Science in human performance. That might have ended his study, but for the Superstars craze of the time. He won the New Zealand section and represented New Zealand at the world event. His prizemoney paid for his graduate studies at Washington State University. After gaining a PhD in exercise physiology at Washington State University, he moved to Dallas in 1981 to do a post-doctoral fellowship at the University of Texas Southwestern Medical Centre.
He continued to do research in Dallas and was in heavy demand to present papers and make speeches on exercise physiology.
He maintained his contact with New Zealand and was a Governor of the Sports Foundation, and involved with the Snell Institute in Auckland until its demise. In 1990 he ran the final lap at the Auckland Commonwealth Games opening ceremony.
Peter was awarded the Lonsdale Cup in 1962 and 1964. In 2002 he was made a Distinguished Companion of the New Zealand Order of Merit, and a few years later officially became Sir Peter Snell.
He was inducted into the New Zealand Sports Hall of Fame in 1990.
Peter was a big advocate for New Zealand to be a nation of participants.
"Get up from the couch and the computer and play something active," he said.
"New Zealand's health depends on it."
"It was a wonderful life we had, I am grateful for having a life with him, I wish it could have gone on forever," says Peter's wife Mika.
Haere, haere, haere atu ra. Ko tetahi o nga tama a Nui a Aotearoa.
(with additional reporting by Stuff)
Subscribe to our daily Newsletter
Email: