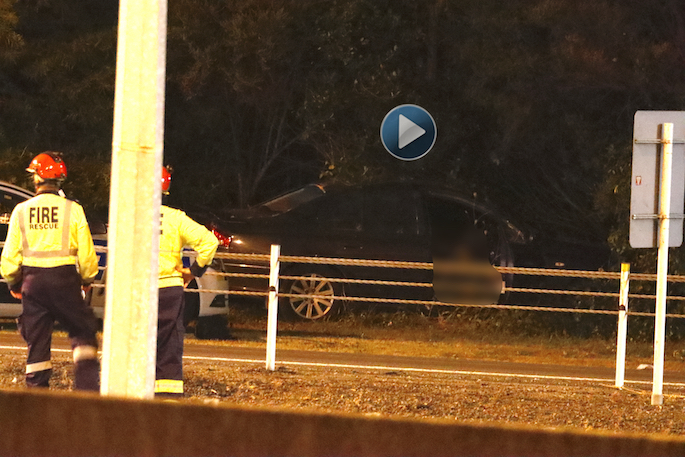 Click the image above to watch the video
Police want to reassure members of the public they are safe following a fatal shooting near Bethlehem last night.
At around 7.40pm, several patrols spotted a vehicle wanted in connection to a double homicide earlier this week go through the intersection of Otumoetai and Bellevue roads.
They followed the vehicle onto Millers Road, then put on their siren and lights in an attempt to pull the driver over.
The driver kept driving onto Carmichael Road, where he leaned out the window and fired a volley of shots at police.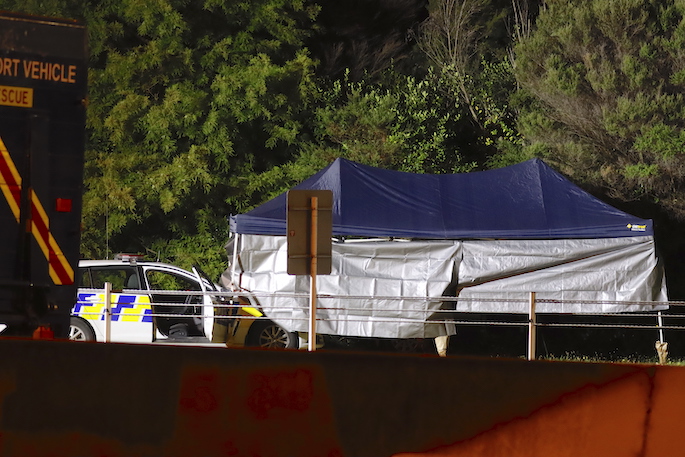 District Commander Superintendent Andy McGregor says he fired shots at police on numerous occasions.
"At one stage, he stopped the vehicle, got out and took deliberate aim at the police vehicle and fired a volume of shots.
"He then got back inside the vehicle and continued on towards State Highway 2, further volleys of shots were fired before then. He turned left into SH2 towards the Tauranga CBD where he fired a further volley of shots just before the intersection of SH2 and 15th Ave.
"The offender again, leaned out the window and fired a volley of shots. At this stage, the police returned fire, during the exchange the offender was wounded and the car slowly came to a stop. The police officers went forward and saw that the deceased was injured and called for medical assistance."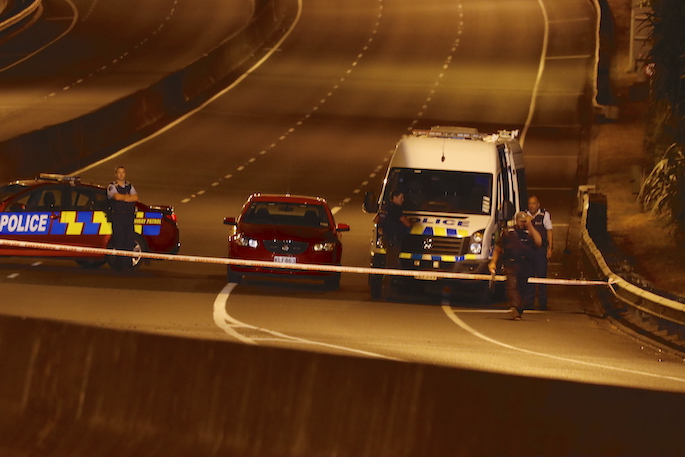 The pursuit lasted for 6-7 minutes and with excess of 15 to 20 shots fired from the offending vehicle.
The offending driver was the only person in the vehicle and the weapon was most likely a semi-automatic because of the high number of shots fired and rapid succession in a small calibre.
Andy says he had spoken to the officers involved last night and they were very upset, distressed and distraught about the situation.
"The police vehicles have bullet holes in them. No members of the public were injured and the police officers weren't injured as well.
"They came to work last night to carry out reassurance patrols for the community here in Tauranga and that's what they're were doing when they came across this vehicle.
"I want to reassure the community out there that they are safe. They've got to remind themselves that this was just one motivated offender. One offender who did not want to be captured or caught by police."
Andy says they are carrying out further reassurance patrols in the foreseeable future, and have extra staff coming into the Western Bay of Plenty from across the district and also from outside the district to assist with those reassurance patrols.
There will be another eight to 10 officers from Rotorua with another 12 from outside the district.
He says those patrols will be happening over a 24 hour period for at least the next week.
The formal identification of the deceased has yet to be completed, with Andy saying they hope to complete that today.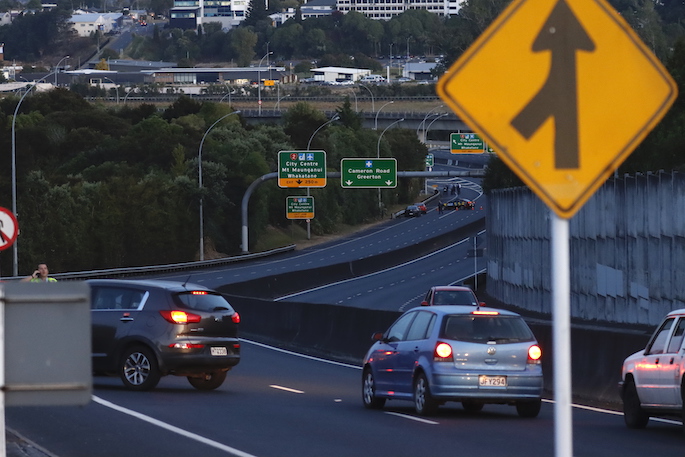 "Once we've done that, we will contact the next of kin.
"All we know at this stage is that the vehicle was wanted in relation to the homicide inquiry. This homicide inquiry is completely different from the shooting we had in Te Puke. They are not related. They are completely different situations."
At this stage, Andy says they haven't requested the Eagle Helicopter, but is something they are going to consider in terms of the investigation, if they carry out further search warrants and things like that.
He says the investigation will continue until they have apprehended the offenders.
"All I'll say is that we are following some very good leads and we're acting on those at the moment.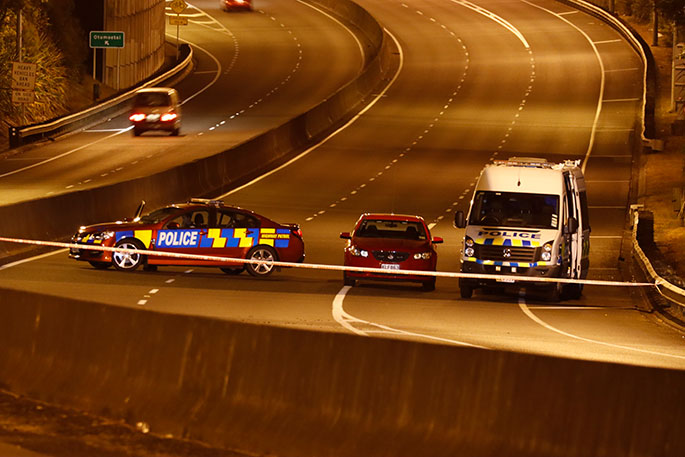 "What we want the public to do is if you've got any concerns around safety or if you see anything, please contact us on 105 or Crimestoppers and we'll definitely want to know.
"We care and we want to ensure that you feel safe."
Currently, ESR are at the scene carrying out the scene examination. Andy says because it is on a state highway, they are wanting to get the road open as quickly as possible. He says the road should be open either late morning or early afternoon.
With the uncertainty of something like this happening again, Andy says regardless people are safe and to just go about your normal business.
"This is very upsetting and I know that is has probably caused alarm across the community, but actually talk to people about it and things like that. This is an isolated incident.
"Basically, if you haven't looked at it, there's a very small nimber of people involved in these shootings compared to the general population. What I'd say is these people were more intent of shooting at each other rather than actually shooting at members of public, and that's something they don't even want.
"But if the nearby don't try and interfere with these people or anything like that – some of them are dangerous, leave it for the police. That's what we're here for."
With a lot of these incidents through the past couple of weeks, it's been noted that some gangs have been involved.
"What we are doing in a proactive space, where in relation to after the incident in Te Puke, we got those gang leaders together and said you need to actually resolve your differences in a lot less violent manner because we're not going to tolerate that, and the public's not going to tolerate that. You need to actually sort your differences out in a less violent manner and not shoot at each other.
"We're very interested in getting all the gang leaders from across the Bay of Plenty together in terms of actually you need to sort out your differences and you can't keep on operating like this cause it won't be tolerated and we'll be coming down very hard.
"We are targeting the gangs. We've got extra resources in the district that have been dedicated towards organised crime in addition to the organised crime group based in Tauranga."
Andy says he also has been speaking with Mayors Tenby Powell and Garry Webber with a public meeting set to take place sometime within the next few weeks.
Subscribe to our daily Newsletter
Email: