Construction of the brand new Wai Ariki Hot Springs & Spa on the Rotorua Lakefront is expected to get underway in the next two to three months after a major funding boost for the development.
Funding and loans totalling $38 million for the $57 million (excluding land) spa project were announced on Friday at Te Puia by Deputy Prime Minister Winston Peters and Under-Secretary for Regional Economic Development Fletcher Tabuteau.
The Crown Infrastructure Partners (CIP) support package for Wai Ariki Hot Springs & Spa was a significant moment for the Pukeroa Oruawhata Group, and the city, says Pukeroa Group chairman Malcolm Short.
The spa development was first revealed in September 2017 and was initially supposed to be completed by the end of last year. Ground stabilisation work delayed the project's start date before the onset of the Covid-19 pandemic.
The spa is now expected to be open by early 2022.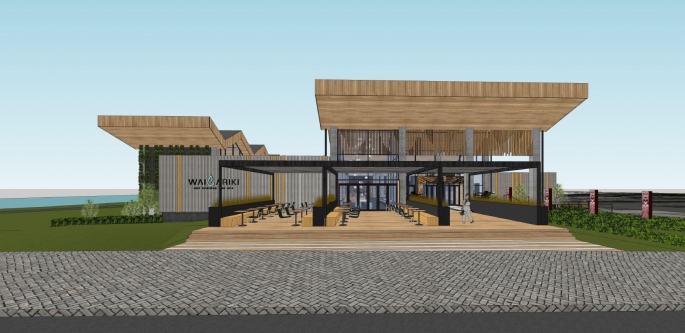 "The impact of Covid-19 on our group position meant that we were looking at having to defer the project for at least two years," says Malcolm.
"Now with the CIP support, the commencement of construction on our already prepared Lakefront site is expected to start within the next two to three months.
"Our vision is for the re-establishment of Rotorua as the spa capital of the Southern Hemisphere, building on the city's long-standing reputation for use of the natural geothermal resources in the delivery of health and wellness outcomes," he says.
Pukeroa Group deputy chairman David Tapsell says they planned to attract "a very strong domestic clientele, being based within a 3-hour drive from 55 per cent of our national population".
"We do obviously have some international clients in our plans, mainly Free Independent Travellers, and with the spa facility coming to market in early 2022 we aim to capture our fair share of international visitors to New Zealand," David says.
"Strategically, the Wai Ariki Hot Springs & Spa's coming to market will support the city's positioning of being an all seasons, all weather short break visitor destination, an outcome that supports Rotorua's wider retail, hospitality, accommodation and tourism attraction sectors."
David says the spa will bring significant benefits to the city, initially with 230 to 280 design and construction-related jobs starting this year, and up to 180 permanent new jobs when the facility is operating at full capacity.
Training for new spa jobs is now a priority and Toi Ohomai has developed a level-5 qualification in Spa Therapy and has been actively involved in training potential staff.
David says the creation of new jobs would have been an important consideration for the Crown when approving their CIP application.
"In many ways we see this as part of Ngati Whakaue's ongoing leadership role in the city. We are not alone in this, with other Ngati Whakaue entities including Ngati Whakaue Tribal Lands forging ahead with their housing development at Wharenui which is significant for the local economy as well."
Subscribe to our daily Newsletter
Email: