A new "forest hub" has been officially opened to the public which will allow more access to the Whakarewarewa Forest and opportunities for future commercial developments.
This morning a karakia was held to open Te Pūtake o Tawa – the new forest hub off Tarawera Rd - that is part of the wider $14.5 million Whakarewarewa Forest Development.
Work began on Te Pūtake o Tawa, also known as the Tawa Forest Hub, in late June 2019 and what was once only a small gravel car park has been transformed into a brand new hub with capacity for 400+ vehicles, event spaces, brand new toilets, showers and bike washing facilities.
Bike hire and food vendors are scheduled to be in place in the coming months and there is significant scope for future commercial development and employment opportunities.
Chairperson of CNI Iwi Holdings Ltd, Bronco Carson, says the development is a further realisation of the CNI Iwi Holdings Vision - Mana Whenua, Mana Tangata, Mana Ao Turoa - Protect and develop the land; empower the people; collectively build the future.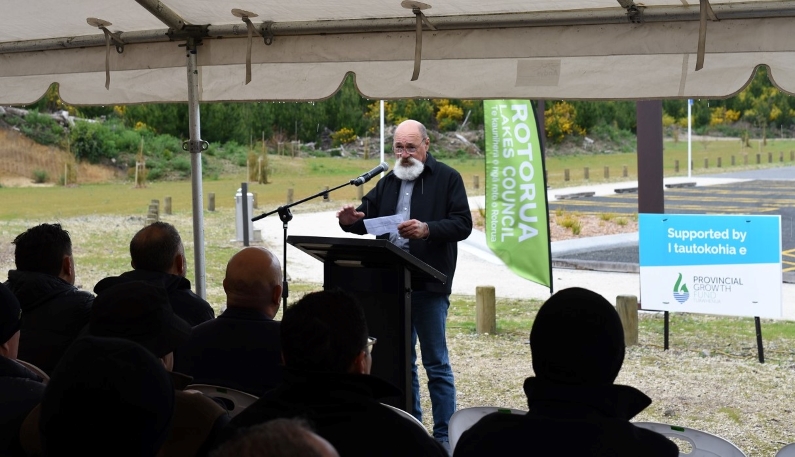 CNI Iwi Holdings chairperson Bronco Carson addressing guests. Photo/Supplied
"The opening is another significant step to realise the vision," Bronco says.
"A project of this magnitude requires partners and collaboration. We have the strength of an eight iwi collective, working with local government, iwi, and commercial operators, to bring benefit and value for the greater good of the community."
Mountain Bike Rotorua and Tūhourangi Tribal Authority have both been granted concessions to operate within Te Pūtake o Tawa.
Mountain Bike Rotorua will hold a concession for providing bike hire and retail and the Tūhourangi Tribal Authority is partnering with a combination of other local businesses - Whakarewarewa Village, Mitai and Grounded Café - to provide a food and beverage offering, retail space and a guided cultural forest experience.
Work is underway to have these operational by the end of the year.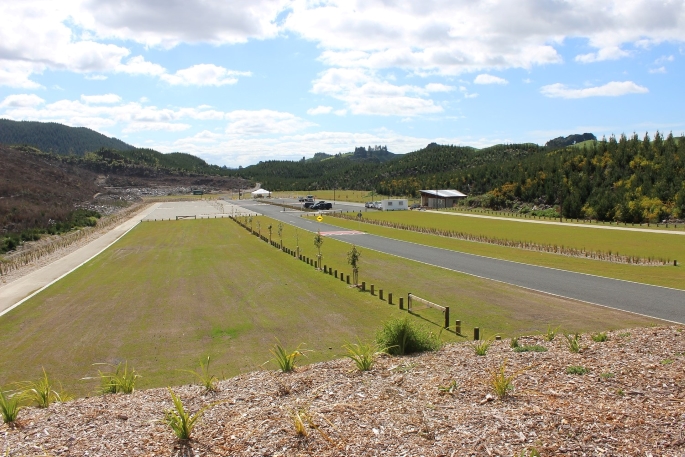 An overview of the new forest hub with parking for more than 400 vehicles, new toilet and shower facilities and opportunities for commercial development. Photo/Supplied
Rotorua Mayor Steve Chadwick says she acknowledged the role of strong partnerships in delivering outcomes for the community and funding from the Provincial Growth Fund.
"This year we have really learnt to appreciate what's in our own backyards and what a spectacular backyard we have here in Rotorua," says Steve.
"Today we celebrate the opening of a brand new access point into the Whakarewarewa Forest that will entice locals and visitors to experience some of the best of what Rotorua has to offer, that will provide the foundation for future development and employment opportunities, and that will tell the stories of mana whenua and the rich history of this special place."
The Whakarewarewa Forest Development has received a $7.09 million Provincial Growth Fund investment alongside $7.5 million from Rotorua Lakes Council.
It is a collaborative project between CNI Iwi Holdings and Rotorua Lakes Council, with the support and guidance of mana whenua.
Timberlands have also supported the development of Te Pūtake o Tawa.
Meanwhile, the Whakarewarewa Forest Loop was also on track to open alongside Te Pūtake o Tawa but has been delayed following the unearthing of a significant archaeological site west of the Tarawera Water Tank.
The site is currently being surveyed and mana whenua are assisting to determine how to adapt the Forest Loop Track construction to preserve the site.
Te Pūtake o Tawa is now open to the public. Car park open hours are 6am to 9pm seven days a week.
For more information on the Whakarewarewa Forest Development project visit visiontoaction.nz.
Subscribe to our daily Newsletter
Email: