Port of Tauranga is not expecting any cruise ship visits for the next two summers, leaving a $100 million hole in the regional economy.
The cruise season traditionally runs from October to April, but border closures in March because of Covid-19 have cancelled ship visits indefinitely.
"Despite the premature and sudden end to the summer cruise ship season due to Covid-19, we still hosted a total of 106 passenger vessels, just ten fewer than last season," chief executive Mark Cairns told the port company's annual meeting on Friday.
"However, we are not budgeting for any cruise ship visits this summer or even the following. Whilst this doesn't represent a significant amount of marine revenue for the port, it is around $100m of cash receipts that will not be going into the regional economy."
Tauranga is New Zealand's biggest shipping hub, moving goods to and from other ports around the country, and its wider business has been hurt by a slowdown in shipping because of Covid-19. Profit dropped 10 per cent last year, after cracking $100m the previous year, as the pandemic curtailed ship visits and reduced volumes moving through the port.
"It would certainly be an understatement to describe 2020 as a tumultuous year," says Cairns.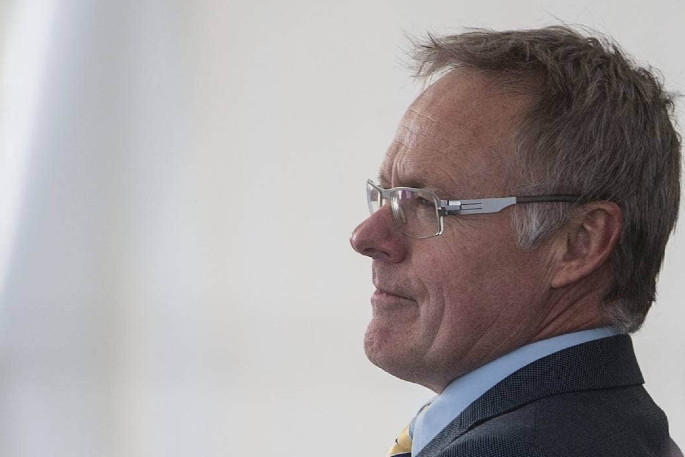 Port of Tauranga chief executive Mark Cairns presided over his last annual meeting ahead of his retirement. Photo: Iain McGregor/Stuff
Despite the "Herculean efforts" of the company's staff who continued as essential workers during lockdown and even set a new record for moving containers on a single vessel, Covid-19 had inevitably impacted the port's cargo volumes and financial results last year, he said.
"We are confident of growth over the long-term at the port, and our ability to retain and grow market share," says Cairns.
"The outlook for the 2021 financial year has, however, presented a few short-term headwinds. Covid makes it extremely difficult to forecast future trade flows."
In the first quarter of the new financial year, from July 1 to September 30, the port made an after-tax profit of $21.5m, little changed from $21.7m last year, Cairns said.
Based on the first-quarter performance, Cairns said he expected full-year profit of between $86m and $93m. That compares with a $90m profit last year.
"Port of Tauranga is a long-run infrastructure company and we will continue to pursue capacity expansion and greater efficiencies, to avoid the bottlenecks and congestion currently being experienced in the Upper North Island supply chain," says Cairns.
"We believe we are well-placed to weather whatever the Covid-19 storm throws at us next."
Cairns was presiding over his last annual meeting of the company, having previously announced his intention to retire at the end of this financial year, after 15 years with the port.
In the first quarter, the port handled nearly 6.4 million tonnes of cargo, a 5 per cent drop from last year, while containerised cargo fell eight per cent.
Imports were the same as the first quarter last year, but exports fell 8 per cent.
Log exports were performing in line with forecasts of 6.2 million tonnes for the full year, but remain vulnerable to variable international demand, he said.
Dairy product exports dropped about 12 per cent from last year, which Cairns attributed to seasonal variations. Kiwifruit exports increased 9 per cent.
Port of Tauranga shares fell 1.5 per cent on Friday to $7.24, and have dropped 7.4 per cent this year.
Subscribe to our daily Newsletter
Email: