Awakeri Rail Adventures, in the Eastern Bay of Plenty, is a 20-kilometre round trip that is full of surprises.
Expect to encounter the rare native weka, ancient kahikatea trees and an effigy of a former US President in a compromising position.
Golf carts, repurposed to run on rails are the self-drive "trains" for this guided journey through farmland and native bush.
Paul Francis is the guide and owner. He is a former train driver and current rail enthusiast and karaoke singer who performs for over-50s birthdays and other celebrations. And yes, expect a song on the journey.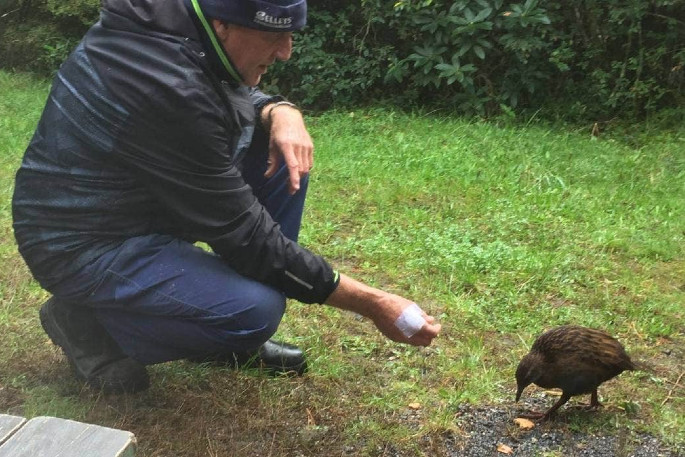 Paul Francis feeding a weka. Photo: Kim Webby.
Paul established Awakeri Rail Adventures on the abandoned Taneatua line in 2015. He cleared the line, laid some new track and restored tiny, hundred-year-old railway stations that appear out of the blue, in the middle of nowhere.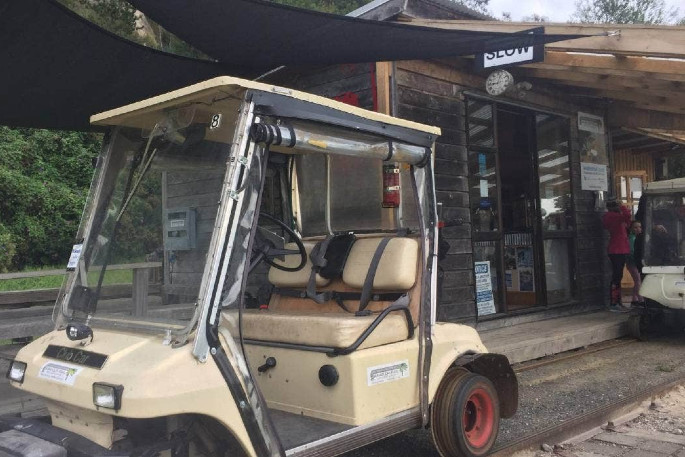 Repurposed self-drive golf cart at Awakeri Station. Photo: Kim Webby.
Open the door to any of these stations and a surprise will greet you. Obviously, it's not a surprise, if I divulge all here.
But there are a few things I can tell you about the two-and-a-half to three-hour journey.
First up, self-driving. It's strange to have a steering wheel with no need to use it.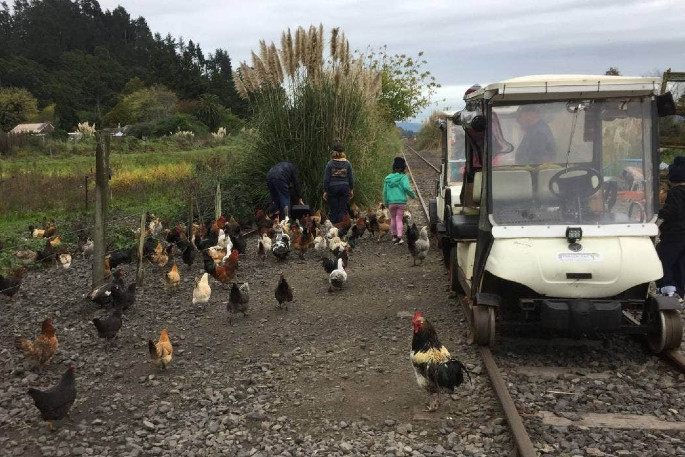 Chook feeding along the line. Photo: Kim Webby.
The golf carts cling to the track, corners and all. However, attached to the steering wheel is a sign that reads: "This machine has no brain. Use your own." Without my glasses on, I thought it read: "This machine has no brakes," which caused me some consternation and everyone else a lot of amusement. I can report that the brakes work very well.
On the journey, all golf carts have walky-talkies and Paul points out sites of interest along the way.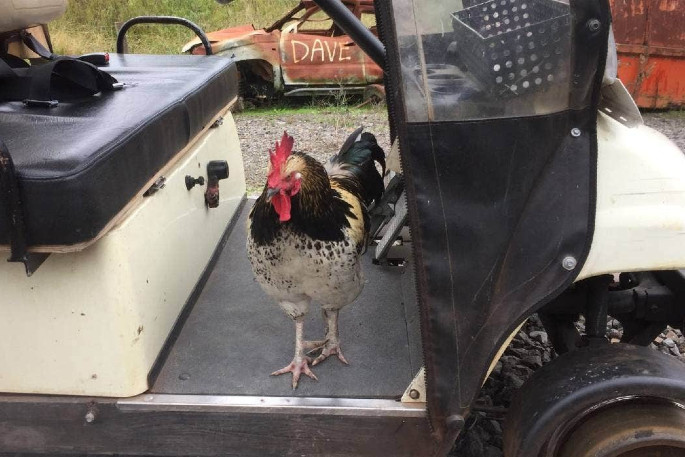 A cheeky chook tags along. Photo: Kim Webby.
On route, we stop alongside an apocalyptic looking junk-yard of old machinery and metal, to feed a greedy flock of hens and assorted game birds that ambush travellers as soon as the convoy arrives. These are no bird brains as they don't bother heading our way on the return journey, knowing we don't stop. It's a hit with the school holiday kids.
The next stop is for a short walk through White Pine Bush, famous locally, for its kahikatea trees, some 700-800 years old ... there is also a resident ghost.
The four-hectare reserve was once part of a 182-hectare forest wetland, cleared for farming. It took 10 to 15 years to chop down all the trees.
The kahikatea was used to make butter boxes to export butter to England. The four hectares retained as a reserve is the last remaining significant stand of wetland bush in the Whakatane district.
Awakeri Rail Adventures bought and monitors 15 rat and stoat traps in the reserve. Paul stopped counting the dead, after a headcount of 400 rats or stoats in three years.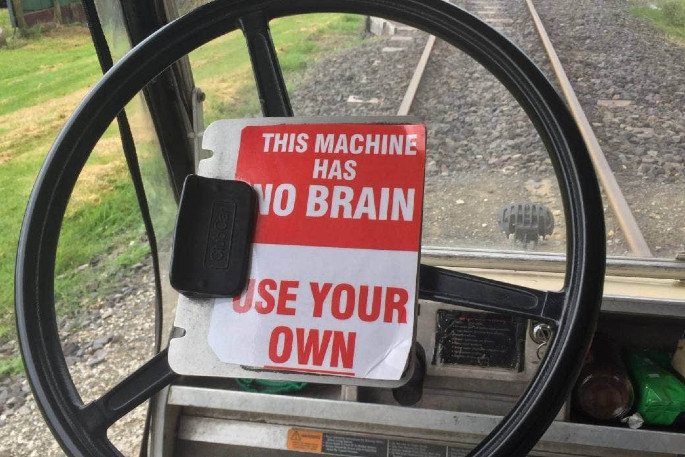 It's a no-brainer to drive. Photo: Kim Webby.
The walk leads us roadside, to a shrine to the late, great comedian John Clarke, aka Fred Dagg. A retired farmer has lined a fence with gumboots collected over 30 years.
This is where Paul's singing prowess comes to the fore with a rousing rendition of 'If It Weren't for Your Gumboots'. Those of us over a certain age sing along.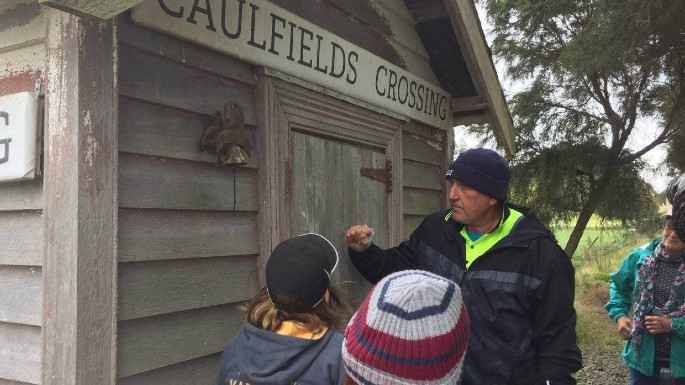 A surprise awaits at Caulfield's Crossing Station. Photo: Kim Webby.
A bush camp is the next stop on the journey where we have a hot drink and share our biscuits with some friendly native weka.
But a trip to the female toilet brings the final surprise, more of a shock actually, an orange-haired former president sits on the funny. Not only can Paul sing, he does an admirable impersonation.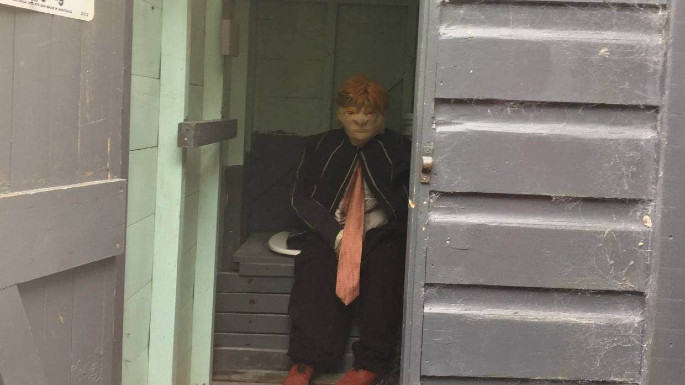 A former US president in a compromising position. Photo: Kim Webby.
There is something for everyone, young and old on this 20-kilometre ride that will at times have you in awe of the majesty of nature and in stitches over John Clarke-esque humour.
For more information go to Awakeri Rail Adventures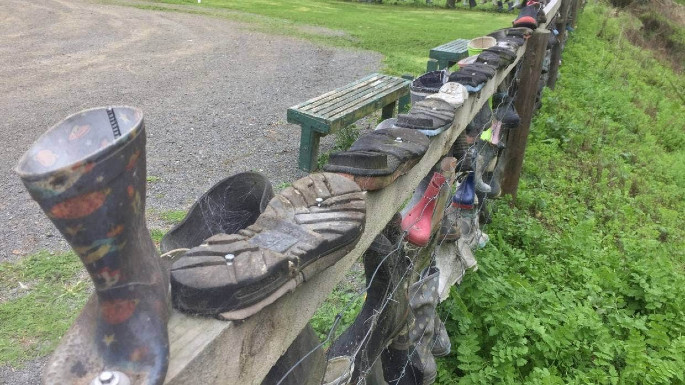 The gumboot fence. Photo: Kim Webby.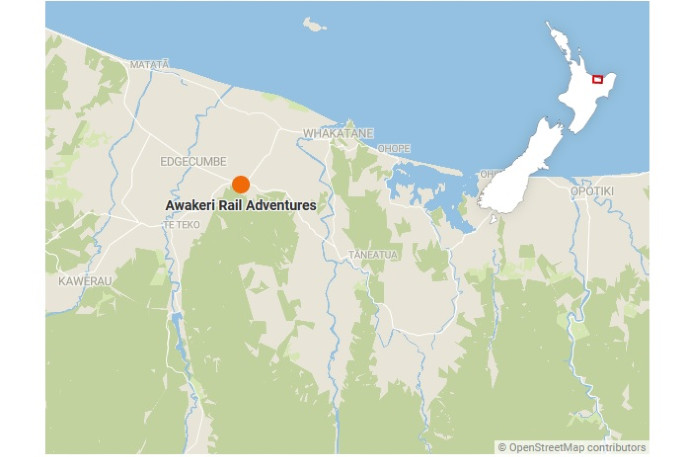 Kim Webby.
Subscribe to our daily Newsletter
Email: