Rotorua's council has taken a U-turn from a "blanket" approach to reducing speed limits and will instead work with schools to set them.
It will also wait for the new Government to be formed to see if promises to repeal speed limit rules are realised in its transport policies before deciding on other non-school or CBD roads.
Elected members made the decision at a Rotorua Lakes Council Infrastructure and Environment Committee meeting on Wednesday. The decision follows consultation in which 88 per cent of the 1718 submissions received did not support proposed speed limit changes.
Proposals included in the draft Territorial Authority Speed Management Plan were to reduce speed limits to 30km/h on 75 per cent of the city's streets - previously labelled "flat-out dumb" and an example of "overreach" by two Rotorua councillors.
Local streets and CBD streets would also have a 30km/h limit, as would urban connectors such as Sunset Rd outside schools.
The council needed to implement recommended safer speed limits around at least 40 per cent of schools on district roads by June 2024, and the rest by December 2027, as directed in legislation - something the National Party promised would be repealed if it was elected.
The council was not able to change the speed limit, but was able to set whether it was fixed or variable.
The Waka Kotahi New Zealand Transport Agency website explains: "Each school, in conjunction with the road controlling authority, can determine the roads outside that school."
This was whether the speed limit covered a single road past a school gate or a wider area around it.
Council staff recommended a radius of one kilometre around the school, which was considered a manageable walking distance for children.
Submitters were asked about enforcing a 30km/h limit at a range of 500 metres from school entrances - 48 per cent agreed and 52 per cent did not.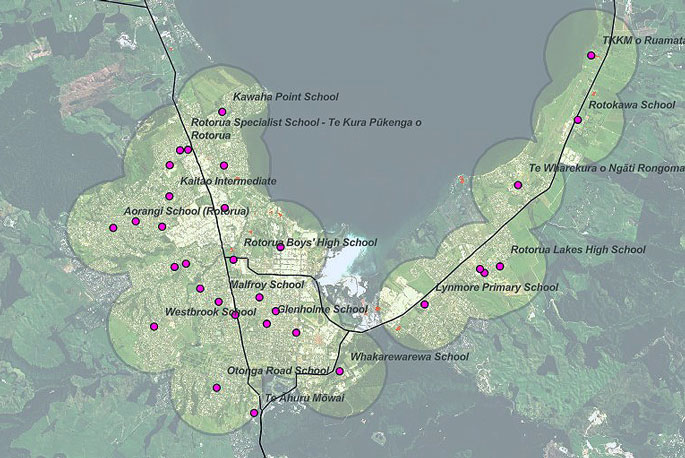 An outline of the area covered by taking a radius of 1km around central Rotorua schools. Photo / Rotorua Lakes Council.
At Wednesday's meeting, Rotorua Deputy Mayor Sandra Kai-Fong asked if instead of a blanket approach, it was possible for the council to speak with schools to tailor changes, including the distance from the schools and variability of limits.
Infrastructure and environmental solutions group manager Stavros Michael answered, yes, it could move away from a blanket approach and work with schools.
He later said the minimum distance from school entrances was 300m.
Councillor Robert Lee questioned why the council would continue with the planning, considering community disapproval and the fact the National Party promised it would repeal the rules if elected.
Michael referred to Local Government New Zealand advice provided to the council that party promises were not a substitute for complying with current legislation.
"I can not respond to what the intention of the Government would be."
Elected members voted to reduce speed limits to 30km/h around schools, variable where recommended, and taking into consideration school feedback and advice.
Decisions on changes to speed limits in the CBD were deferred.
A decision on other roads was also deferred pending "further consideration" of the new Government's transport policies.
Councillor Don Paterson said it was great the community could feel listened to.
"It is great common sense has prevailed."
Kai Fong said it meant the council still addressed child safety but also kept "Rotorua moving".
"This is a sensible compromise."
A final draft of the plan will be prepared for final committee approval before being submitted for certification in March.
Rotorua Principals' Association president Hinei Taute said the council had been in contact with her during the drafting process.
She said she would wait with "bated breath" to hear from the council following the meeting, and said a tailored approach was the better way to go about it.
This way, the environment around each school could be taken into account, she said.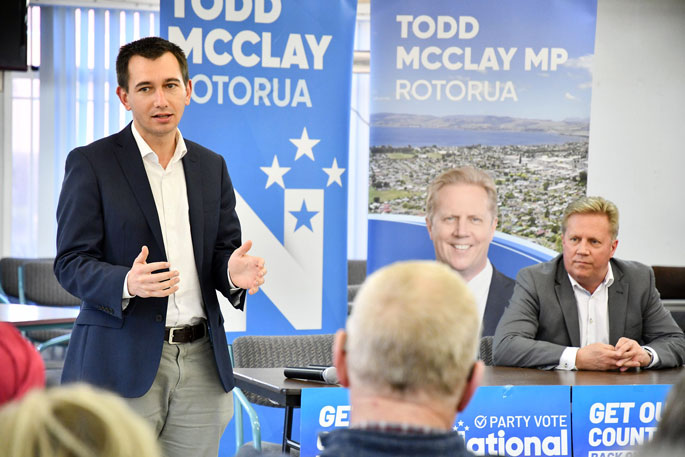 Pakuranga MP and National transport spokesman Simeon Brown (left) and Rotorua MP Todd McClay. Photo / Laura Smith.
Rotorua MP Todd McClay said blanket speed reduction rules would be repealed "quickly" after the new Government was formed.
He said it was a "firm election promise".
"The ridiculous thing about the law change was that it would affect the whole town."
McClay previously claimed "a child on a pushbike would be breaking the law", and believed what was proposed would only create confusion and frustration, and the priority should be fixing potholes.
National Party transport spokesman Simeon Brown previously said the party would repeal the speed limit reduction rule as "soon as humanly possible", but did support variable speeds near gates and entrances of schools.
A Waka Kotahi spokesperson previously said the new legal framework made it "easier for councils to set safe and appropriate speed limits on their roads".
"There is a very strong evidence base which demonstrates that in the event of a crash, regardless of its cause, the speed of impact is the most important factor influencing whether people survive, or how seriously they are injured."
They said a pedestrian hit at 30km/h had a 5 per cent chance of dying, compared with 40 per cent at 50km/h. Hit at 70km/h, 96 per cent of pedestrians will die.
Public Interest Journalism funded through NZ On Air.